---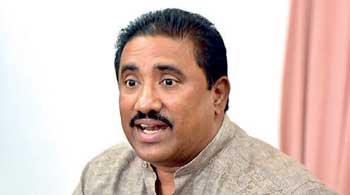 By Lahiru Pothmulla
The country has become a hub for drugs owing to the actions of the government, the Sri Lanka Podujana Peramuna (SLPP) said yesterday.
Addressing a news briefing held at the SLPP office, MP Rohitha Abeygunawardene said the government should take the responsibility for drugs that were readily available in the country.
"The largest-ever heroin haul of Sri Lanka was seized in Colombo last Sunday. This means our country has become a hub for drugs. Once, when there were allegations over heroin levelled against the Secretary to a Prime Minister, JVP leader Anura Kumara Dissanayake said there was enough heroin to be distributed among all Sri Lankans if used an earpick. Today, we have enough heroin to distribute among all Sri Lankans if used a shovel," he said. He said the media secretary to a prominent minister was recently nabbed with heroin at the Mount Lavinia beach, but that a driver was arrested instead of the official. "One MP from Badulla recently slapped an officer attached to the Police Narcotics Bureau (PNB) and got off scot-free," he said.

The MP said they were ready to support President Maithripala Sirisena's drug eradication programme.