---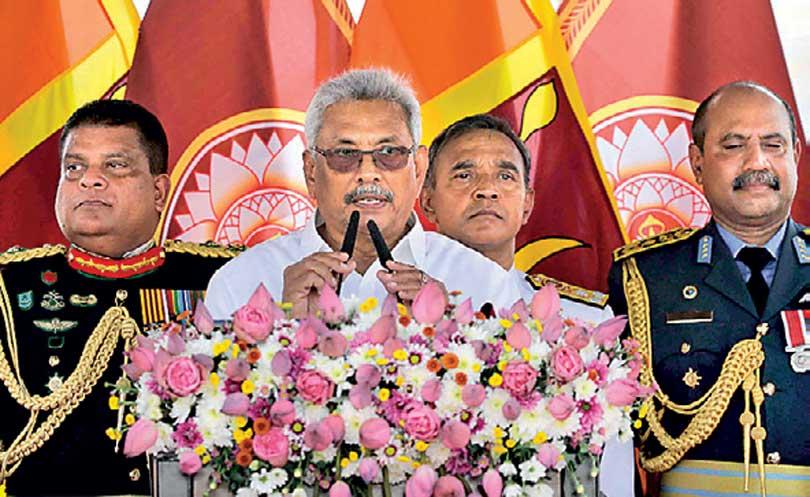 By Lahiru Pothmulla in Anuradhapura
Gotabaya Rajapaksa was sworn in as the seventh Executive President at a simple but dignified ceremony held yesterday at Salapathala Maluwa of Ruwanweliseya in Anuradhapura. He is the pioneering former military officer and civil servant to assume presidency.
At the auspicious time of 11.47 a.m., he took oaths before Chief Justice Jayantha Jayasuriya at a podium set up near the ancient statue of King Dutugemunu. Prior to taking oaths, he paid homage to Jaya Sri Maha Bodhi and Ruwanweliseya.

The announcement of new presidency was made by President's Secretary Udaya R. Seneviratne while the declaration by the Elections Commission (EC) the day before. Taking oaths before CJ Jayasuriya, Mr. Rajapaksa who was clad in white pledged to uphold sovereignty and national security.

President Rajapaksa, flanked by his spouse Ioma Rajapaksa, their son and tri-forces commanders inked the official declaration of presidency amid the chanting of Seth Pirith by the Maha Sangha.

Upon the invitation of Mr. Seneviratne, the President addressed the nation in which he extended wishes to his brother and former President Mahinda Rajapaksa on his birthday which fell yesterday.

The Maha Sangha led by Anunayake of the Malwatta Chapter, Most Ven. Niyangoda Vijithasiri Thera, invoked blessings on the President.

Prime Minister Ranil Wickremesinghe, opposition leader Mahinda Rajapaksa, SLPP Chairman Professor G.L. Peiris, First Lady Ioma Rajapaksa, Ministers Ravi Karunanayake, John Amaratunga and Arjuna Ranatunga and MPs of the opposition were present at the event.

Ambassadors and High Commissioners of foreign countries and party leaders too attended the swearing in ceremony.
Prior to taking oaths, he paid homage to Jaya Sri Maha Bodhi and Ruwanweliseya