---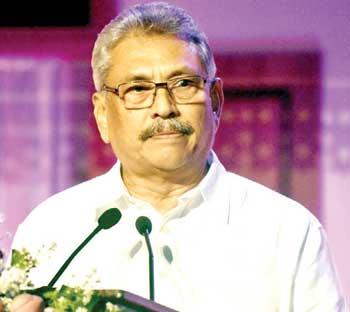 By Lahiru Pothmulla
SLPP presidential candidate Gotabaya Rajapaksa yesterday reiterated that he renounced his US citizenship on April 17, informed the Immigration and Emigration Department about the renunciation and obtained a new passport mentioning that he is a citizen of Sri Lanka.
Speaking at a meeting chaired by SLPP Leader Mahinda Rajapaksa with the heads of local government bodies controlled by the SLPP at its Head office in Battaramulla, Colombo, Mr. Rajapaksa said his passport which mentioned he was a dual citizen had been annulled.

"The Immigration and Emigration Department released a new passport which mentions I'm a Sri Lankan citizen. False reports are being spread over the renunciation of my dual citizenship and it seems these false reports are attempts of creating issues against me," he said.

Mr. Rajapaksa told the local government heads that he had no obstacle whatsoever to contest the presidential election.

"Since the founder of the party, Basil Rajapaksa, has made a sound mechanism to ensure the election victory, what we have to do is make sure that we don't make any mistakes," he told the gathering.
Says Immigration and Emigration Department released a new passport which mentions he's a Sri Lankan citizen