---
The ten plaintiffs include three women
New plaintiffs have come forward
Describe horrific violations they suffered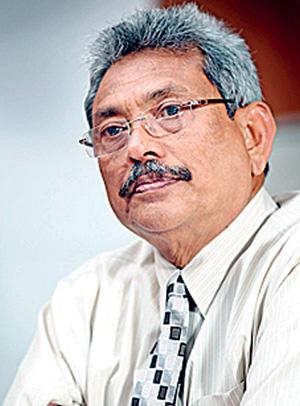 The International Truth and Justice Project (ITJP) yesterday said former defence secretary Gotabaya Rajapaksa faces ten new claims for damages in the US from victims of torture inflicted.
In a statement, the ITJP said the claims have been filed in the District Court for the Central District of California from victims of torture inflicted while he was secretary of defence.
"In court documents filed on June 26, the new plaintiffs, who remain anonymous in order to secure their safety, describe horrific violations they suffered in police stations and army camps under the ultimate control of Mr. Rajapaksa. They were branded with hot metal rods, whipped with cables, asphyxiated by plastic bags soaked in petrol put over their heads, and six of them were repeatedly raped and sexually assaulted. The ten plaintiffs include three women; eight are Tamil and two Sinhalese," it said.

It said the case was the product of a six year-long investigation by the ITJP, in partnership with the international law firm Hausfeld, which represents the victims in the proceedings.
According to ITJP, the plaintiffs had alleged that Mr. Rajapaksa was in command of security forces that systematically abducted, tortured, raped, and extorted money from suspects with impunity from 2005-2015. "Plaintiffs also identify a number of security officials they allege were directly involved in their torture, including top investigative police officer, Nishantha de Silva, whom a victim alleges tortured him twice in Colombo," it said.

ITJP's executive director Yasmin Sooka said that alleged perpetrators remain in key investigative positions in the police force showed why Sri Lankans have been unable to achieve justice inside the country.

One Tamil plaintiff, suing Mr. Rajapaksa under the pseudonym Vidhya Jayakumar, alleges that she was sexually enslaved for three years in army camps after the end of the civil war in 2009. "Frankly, this is the worst account of sexual slavery I have ever encountered. The sexual violence inflicted by Gotabaya's security forces against our clients—and the total impunity for perpetrators—shows that rape was part of an institutional policy in Sri Lanka," Scott Gilmore at Hausfeld said.
They were branded with hot metal rods, whipped with cables, asphyxiated by plastic bags soaked in petrol put over their heads, and six of them were repeatedly raped and sexually assaulted. The ten plaintiffs include three women; eight are Tamil and two Sinhalese