---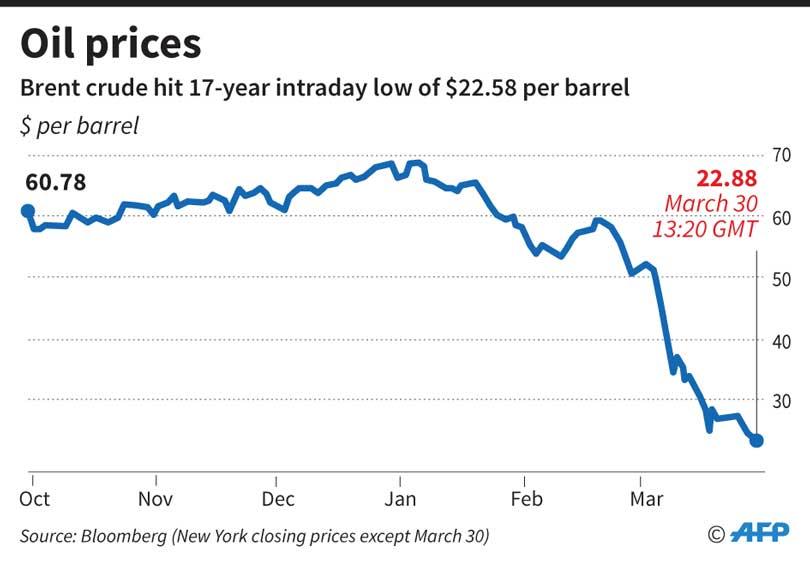 WTI and Brent Crude suffered worst slump in recent years
By Sandun A. Jayasekera
The COVID 19 viral infection that has devastated the entire world, has hit the global energy market hard as the fuel prices have dropped to a record low. On Tuesday (March 31st), oil had its worst quarterly performance ever, as coronavirus and a global price war weighed on the commodity.
According to news agency reports, the US West Texas Intermediate (WTI) crude plunged by 66% to $20.40 per barrel and Brent Crude which Sri Lanka purchases had dropped by 65% to $22.71 per barrel on Tuesday.
The sad phase of this price slump in the global crude oil market is that smaller countries like Sri Lanka cannot enjoy the full benefit, as the industry, agriculture, tourism, transport, garment and apparel and other key sectors of the country's economy have been slowed down to a standstill and productions and exports have dropped to less than 10%.

A Sri Lankan oil analyst on condition of anonymity told Daily Mirror that if the oil Hedging system was in operation, the country would have had some benefits by placing a big order for fuel under reduced prices. Analysts think that oil prices could fall even further this month, as Saudi Arabia and Russia boost production to record levels. Oil just posted its worst quarterly performance ever, dragged down by the coronavirus pandemic and a global price war that has erupted at the same time.

The foreign agency reports said in the US' WTI crude was down as much as 66% year-to-date by Tuesday, while international benchmark Brent Crude shed as much as 65% at the same time. The West Texa Intermediate (WTI) traded at roughly $20.40 per barrel, while Brent Crude was about $22.71 per barrel.

Demand has dropped sharply as the COVID-19 outbreak has raged on non-essential travel has been banned, leading to cancelled flights and consumers are being told to practice social-distancing measures, keeping gas prices depressed as well.

As demand took a hit, the Organisation of the Petroleum Exporting Countries (OPEC) and its allies failed to agree on production cuts past March 31. Both Saudi Arabia and Russia are preparing to significantly ramp up production starting on April 1.

Current domestic prices of fuel in the country were fixed for the last time in August, 2019 when a barrel of Brent Crude oil traded between US$ 60 - 65 at the global market.
As demand took a hit, the Organisation of the Petroleum Exporting Countries (OPEC) and its allies failed to agree on production cuts past March 31