---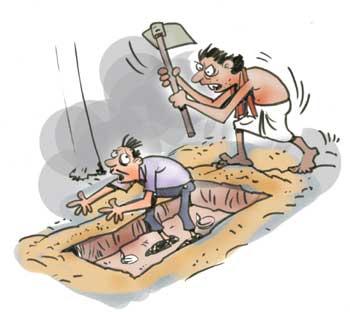 By Srinath Prasanna Jayasuriya
A lecturer of the German Technical College had been killed and buried in his Coconut estate, allegedly by a Coconut plucker who had then stolen gold jewellery weighing about 15 Sovereigns belonging to the deceased and had fled the scene.
A team of police officers from the Kuliyapitiya Police had apprehended the suspect on Monday.

The deceased had been identified as Basnayake Mudiyanselage Nanditha Mahinda Basnayake, a resident of Madakumburumulla, Gorakapola in Kuliyapitiya A police officer stated to the media that the suspect under arrest had disclosed that the victim was not dead at the time he was buried.

The suspect had stated further that he had killed Basnayake with the idea of robbing the jewellery in order to purchase a Three Wheeler.

The suspect arrested has been identified as Sujith (40) a father of four children residing in Welipennagahamulla in the Dummalasuriya police division.

Sources revealed that the suspect had claimed that he is possessed with the spirit of a deceased Monk and is capable in curing sicknesses and also driving away evil spirits.
The suspect who had won the confidence of Basnayake had paid amounts ranging between Rs 50,000 to 75,000 for conducting various rituals, and had lured him to part with all the jewellery he had in his possession.

The suspect had then dug a pit in the Coconut estate and then instructed Basnayake to light the oil lamps inside the pit. Basnayake had bent to perform this ritual; the suspect had then given a blow on the head of Basnayake with a Mammoty. With the impact, he had fallen into the pit.