---
It is vital to elect a strong oppostion to stall the anti-people actions of this government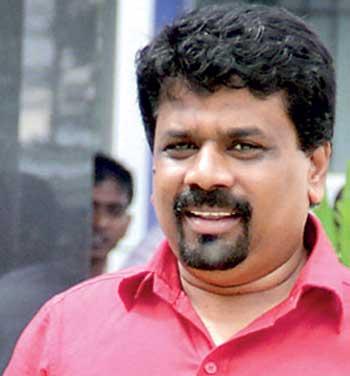 By Ajith Siriwardana

The National People's Power (NPP) Leader Anura Kumara Dissanayake said yesterday they were preparing to contest the general election in all districts and would field candidates, who are educated, principled and untainted by fraud and corruption.
He told a news conference that it was vital to elect a strong opposition to stand against the government's anti-democratic and anti-people moves in Parliament and highlighted the fact that the United National Party (UNP) was not strong enough to play the role of an opposition in parliament.

"It is vital to elect a strong opposition in parliament. The government is resorting to such moves even when an election is round the corner. The government issued a gazette notice abolishing the salary increment for the pensioners and stopped the allowance proposed to executive level state workers just before the election. Even though the government promised fertilizer free of charge, they are not available even to purchase it paying cash. The executive is directly threatening the judiciary. This situation may get worse after the election," Mr. Dissanayake said.

He said government the had already hinted at increasing water and electricity tariffs which may be carried out after the election.

"Minister Mahinda Amaraweera has said the Ceylon Electricity Board (CEB) was incurring a loss of Rs.10 billion and Minister Vasudewa Nanayakkara has said water tariffs may have to be increased. The tariffs are sure to be increased after the election. We need a strong opposition to defeat such moves in parliament. The UNP cannot play that role as they have corruption charges against them and they have a tendency to support the Rajapaksas," Mr. Dissanayake said.

He said people have been criticising the parliament over the years and they have a good chance to cleanse it by sending educated and corruption-free members at the upcoming election.
The government issued a gazette notice abolishing the salary increment for the pensioners and stopped the allowance proposed to executive level state workers just before the election