---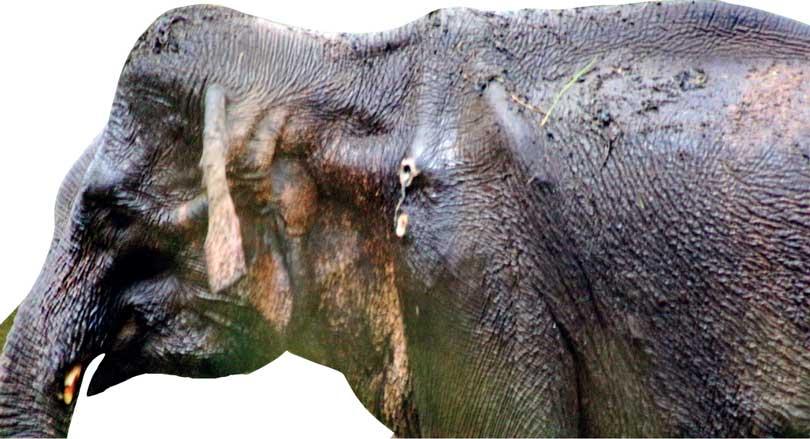 The calf has less chances of survival

Only 18 veterinary surgeons at the DWC

Tranquilisers given to stop elephant from moving

Once shot, elephants cannot eat but they need water

It is unlikely that elephants recover after treatment

It died on June 16
By Kamanthi Wickramasinghe
The heartbreaking video footage of a dying mother elephant with a baby by its side was reported from Galgamuwa. The postmortem examination confirmed that the elephant had died of septicaemia. However, the baby elephant had gone missing since June 16 and Wildlife Conservation Department (DWC) officials in Galgamuwa, Nikaweratiya and Mahawewa have launched search operations to locate the baby elephant. Even if it is found, conservationists question its chances of survival given its young age. Speculation is rife whether this was a deliberate attempt to separate the baby from the mother so that the mother-elephant's tusks and the calf could be taken away to be sold.
Several sightings recorded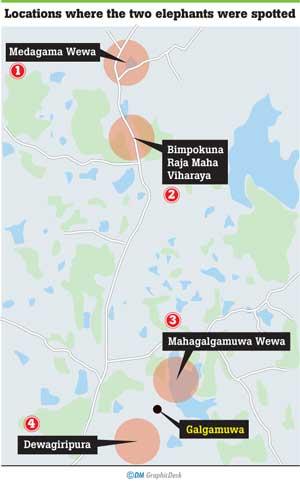 According to R.M.J. Bandara, a Galgamuwa resident, who had kept track of the elephant's whereabouts, the mother elephant and the baby were first spotted on June 1. "She was spotted near Medagama Wewa in Makulewa, which comes under the purview of the Meegalawa Wildlife Department. But wildlife officers will come to the spot only if they receive information. Those who saw the elephant said she was walking slowly but had not noticed any gunshot wounds. However, this area does not come under the purview of the Galgamuwa DWC. The elephant was then sighted near Bimpokuna Rajamaha Viharaya on June 5. On June 11 they were seen at Mahagalgamuwa and then on the evening of June 12, the elephant and the baby were seen in Dewagiripura which is an area coming under the purview of the Galgamuwa DWC. However, it was too late for the DWC officials to treat the elephant. The first dose of tranquilisers were given on June 13. A smaller dose was given because the DWC officials feared that the mother would fall on the baby. Then the second dose was given on June 16 but by that time there was a lot of pus accumulating in the wound. However, on June 16 it fell down and died after sometime," he said. Conservationists believe that the mother elephant had travelled a long distance so as to re-introduce the calf to its herd.

Cause of death, tranquiliser use and staff scarcities

"The bacteria on the wound have caused septicaemia (blood poisoning caused by bacteria)," said Dr. Tharaka Prasad, DWC's Director of Wildlife Health. "It is estimated that the elephant would have been shot around three weeks ago and the most severe wound was near the scapula. There has been a pus-infected tissue. A shot gun pellet was also found during investigations."

When asked about tranquilisers that were given, Dr. Prasad said that they only give a tranquiliser (Xylazine) to relax the muscles. "They drop in less than 10 minutes. There is another morphine-induced tranquiliser that stops respiration; we don't give anymore. But this particular elephant was already very weak. Tranquilisers are given to stop the elephant from moving.
The antibiotics are given afterwards. After tranquilising, an antibiotic can be given to its muscle mass near the hind legs or give several antibiotic injections at once. Once tranquilised we also inject medicine to reverse the reactions so they can move about once recovered."

He said an elephant in this condition is quite weak and would therefore go near a water source. "Once shot, elephants cannot eat but they need water. So even if they move away after being tranquilised we know where to find them because they will definitely go near a water body. It is unlikely that they would recover from treatment especially if the wounds are severely infected."

Responding to a question on the availability of drugs Dr. Prasad said all regional DWC offices have stocks of these tranquilisers and other medicines. However, he observed a scarcity of staff during an isolated incident. "So far there are 18 veterinary surgeons in the DWC staff. But in the case of a surgeon taking leave, it takes time for the acting veterinary surgeon to arrive at the site. They are expected to work overtime but don't have many benefits. Therefore there's a lack of interest as well. It would be better if there are more veterinary surgeons and I hope these matters are rectified soon."

Isolated in pain

The Daily Mirror received several accounts of the mother and baby. One account said they had lost their herd while another account said they were two lone elephants. But according to Dr. Prithiviraj Fernando, Conservationist and Chairman of Centre for Conservation and Research, it is quite unusual for a female and a baby elephant to be isolated. "Females continue to remain in the herd but it doesn't mean the herd stays together all the time. But with this injury it could be that she was in pain and therefore couldn't move along with the herd. Even with the wound it had been walking around and it would have aggravated the pain."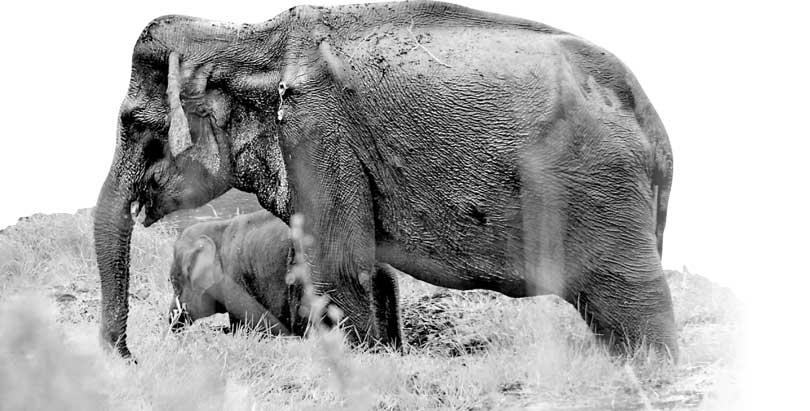 A better communication system needed

This is not the first instance that an elephant had died from gunshot injuries. "The Wildlife Department should strengthen its cadre," said Ashan Darshana, President of The Voice for Elephants, a voluntary organisation that advocates the conservation of domesticated elephants and those in the wild. "If we inform about an elephant to the Colombo office, they would give us a number to contact the regional office. But even if the regional office is informed they would take time to reach the site depending on the availability of veterinary surgeons and other officials. So we suggest that the Department should develop a better communication system."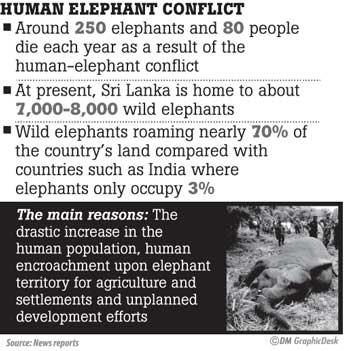 Mr. Darshana also raised concerns about other elephants in the wild that they have identified as having gunshot injuries. "There is one deformed elephant near the Udawalawa National Park and a few more across the country. It is said that their genes are a rare kind and we wonder whether there is a racket to steal these genes. Therefore it is best if these elephants are collared so that they could be tracked."

Where is the baby?

On June 16, eyewitnesses claim that the baby elephant had run some 500 metres away from the mother's body. However despite several attempts to track the calf on June 16 and 17, the officials haven't succeeded yet. "If the baby is less than a year old it is unlikely that it would survive," Dr. Prithiviraj Fernando said. "It is unlikely that it would find a herd. Even if it joins a herd, other females would only feed a calf that is related to them. If the baby is two or three years old then there is some likelihood of survival. But when abandoned babies are brought in to the Elephant Transit Home in Udawalawa, there have been instances when they have joined other herds."
Meanwhile, Dr. Tharaka Prasad said search operations are underway to locate the baby.
Females continue to remain in the herd but it doesn't mean the herd stays together all the time
There is one deformed elephant near the Udawalawa National Park and a few more across the country