---
He also said that there had been no grudge against the Former IGP and that he had worked with him amicably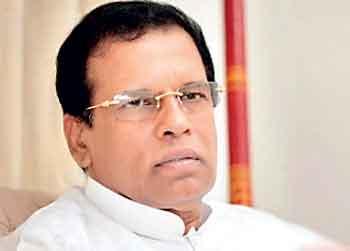 By Yoshitha Perera
Former IGP Pujith Jayasundara had been expelled from the National Security Council (NSC) meetings without considering the relevant Gazette notification pertaining to the NSC, for breach of trust, former President Maithripala Sirisena yesterday testified before the Presidential Commission of Inquiry (PCoI) probing the Easter Sunday attacks.
During the cross-examination led by Anura Meddegoda , appearing on behalf of former IGP Pujith Jayasundara, drew the attention of former President to the NSC's Gazette notification and the permanent members of the NSC.
According to the said Gazette notification, the NSC consisted of the Secretary to the President, Defence Secretary, Heads of the Tri Forces, Chief of Defence Staff, IGP and the Director of State Intelligence Service (SIS).
Anura Meddegoda PC posed a question to the former president as to where it was mentioned in the Gazette notification that the President had the ability to have officials he trusted to attend NSC meetings, for which former President Sirisena said: "It was not mentioned in the Gazette notification, but a President can replace officials according to his will. That's how we have to govern the country. Trust is more important when governing a country"
When it was pointed out by Anura Meddegoda PC that the particular trust was not mentioned in the Gazette notification, and that a president cannot work beyond the law of the country, former President Sirisena answered "Yes".

Former President Sirisena also said that he not only kept away the IGP, he had also removed former Prime Minister Ranil Wickremesinghe from the NSC and during his tenure and that he had even removed the whole Cabinet before ending the rule of the 'Yahapalana' regime.

Responding to the former President's above statement , Anura Meddegoda PC said that the ruling of the Supreme Court removing the Cabinet during 'Yahapalana' period was totally unconstitutional.

Meanwhile, former President said that there were matters which had not been stated in the rule of law but a leader while governing a country, had to use those strategies which were not mentioned in the rule of law.