---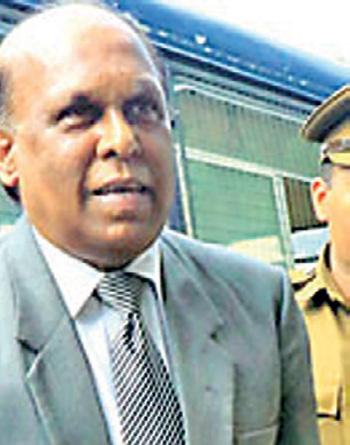 By T. Farook Thajudeen
The Colombo High Court yesterday served indictments on former Senior DIG Anura Senanayake for concealing evidence of the murder of Havelock Sports Club rugby player Wasim Thajudeen.
Mr Senanayake was released on Rs. one million cash bail with two sureties for Rs two million on each surety by the High Court. He has also been banned from foreign travel and his passport was impounded,

He was also sternly warned by Judge Vickum Kaluarachchi not to interfere with the prosecution witnesses and with the prosecution .

The case will be taken up for trial on October 23.

The court also issued summons on six prosecution witnesses including former Narahenpita OIC Sumith Champika Perera to appear before court on October 23.
Mr. Senanayake is accused of having concealed the evidence into the death of Wasim Thajudeen. by knowing or having reason to believe that an offence punishable with death has been committed and provided false information with screening the offender from legal punishment

Thajudeen was killed apparently in a road accident on May 12, 2012. Later it was revealed that Thajudeen was murdered.. .

The Attorney General indicted former Senior DIG under Section 198 of the Penal Code for screening offenders of Thajudeen's murder from legal punishment.

The Attorney General had named 24 witnesses including Wasim Thajudeen's sister Fathima Thajudeen and Colombo Chief Judicial Medical Officer Prof. Ajith Tennakoon as witnesses in the case. During the Magisterial inquiry, former Narahenpita Crimes OIC Sumith Champika Perera and former Colombo Chief Medical Officer Prof. Ananda Samarasekara were named as suspects for the case.

They were alleged to have covered up evidence of the murder of Thajudeen.

The body of Thajudeen was found inside his burnt car near Shalika Grounds in Narahenpita on May 12, 2012.

Initial investigations ruled it as an accident but later it was revealed that the death was not due to an accident but murder.