---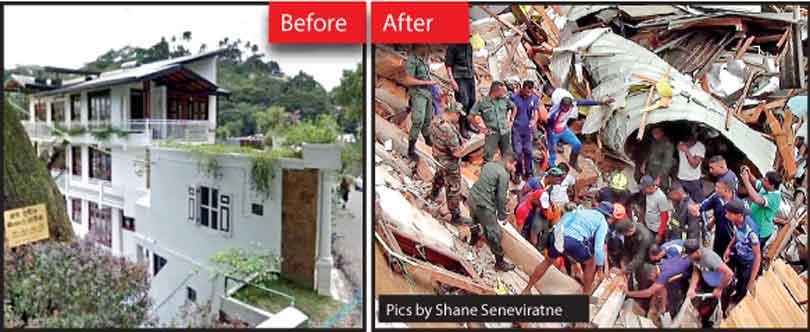 The building which is said to be recently renovated has collapsed onto the adjacent hotel
The baby rescued from the debris, succumbed to its injuries
By J.A.L.Jayasinghe and L.B. Senaratne
A young couple and their one and a half-month-old child were killed when a five-storey building collapsed on the hotel in Buwelikada, Kandy where they were staying in the early hours of yesterday, Kandy police said.
With the torrential rain prevailing for the past few days in the area, the building which is said to be recently renovated has collapsed onto the adjacent hotel at around 4.30 am.

People got startled and ran away from their homes on hearing a huge sound deafening the area with the collapse of the house early yesterday (20) morning had called 119 immediately and informed about the catastrophe, according to the Kandy Police.

Kandy police who rushed to the scene first had rescued the baby from the debris, but it had succumbed to the injuries on admission to the Kandy National Hospital, police said. A rescue operation was launched by the army and police with the assistance of the people in the area, searching for the victims underneath the fallen concrete slabs.
The mother and sister of Achala Ekanayake who have also been in the hotel at the time of the incident have been rescued without injuries

After a ten-hour effort the rescue team had found the bodies of a young couple in a room in the collapsed house, buried under a concrete slab. The deceased couple has been identified as Chamila Prasad (35) who is said to have been running the ill-fated hotel and Achala Ekanayake (32) who is a lawyer and a lecturer at the Uva Wellassa University. The mother of Achala Ekanayake who has also been in the hotel at the time of the incident has been rescued without injuries.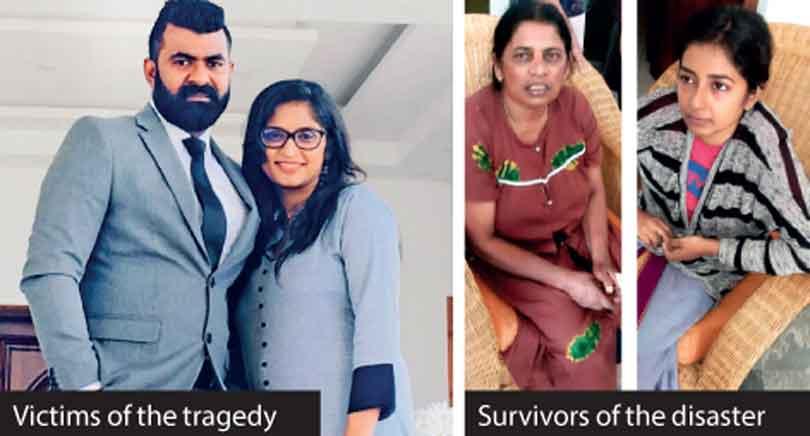 A group of doctors and ambulances from the Kandy National Hospital, personnel from the Army and Air force, fire engines from the Fire Service Department of the Kandy Municipal Council had also been deployed for the rescue operation.

People in the surrounding area seemed to be in a frightened and bewildered mood after seeing what has happened. Meanwhile, officers of the National Building Research Organisation (NBRO) were seen making observations of the site. As revealed in the investigation, the building which collapsed on Sunday (20) morning has been found constructed without adhering to the standards set by the NBRO.

Meanwhile, Kandy Division SSP Sudath Masinghe requested the people to refrain from unnecessarily gathering near the house and the area which was affected by the landslide. He said, the area beyond the house was showing signs of cracks on the earth. Kandy police are conducting investigations.