---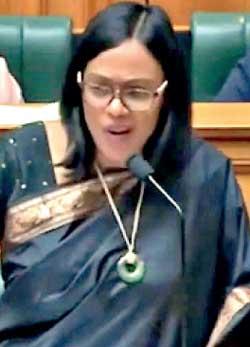 The first Sri Lankan born member of the New Zealand Parliament, Vanushi Walters, drew the applause of the New Zealand Parliament on Wednesday after her maiden speech to Parliament.

In her speech she made brief statements in Sinhalese and Tamil, including a reminder that human rights belong to all.

She also briefly spoke on the murder of journalist Richard de Zoysa, who happens to be her father's second cousin.

"Richard was my father's second cousin, a journalist in Sri Lanka, killed in 1990 as a result of his courageous criticism of the then Government. The cloak that morning arrived like a wave of outrage. Surely people weren't being tortured and killed by their own Government, and if they were, the cloak demanded I do something about it," she said in her speech.

Dressed in a saree, Vanushi Walters thanked all those who helped her along the way, those in New Zealand and in Sri Lanka.

"I can't claim the privilege of being the first MP of Sri Lankan descent. Thanks to the speedy work of the Parliamentary Library, I quickly discovered that privilege belongs to the Hon Annette King. However, I am the first Sri Lankan – born member of New Zealand's Parliament and I'm incredibly humbled to be joining a value-based not to mention enormous Labour caucus," she said.

She said that her family arrived in New Zealand in 1987 and that she has been part of a 27-year journey in human rights advocacy.

"There is still so much to be done for human rights protection in many countries around the world because human rights belong to all," she said.

She also recalled listening to stories about her great-grandmother Naysum Saravanamuttu, the second woman to be elected to the State Council of Ceylon in 1931.

Vanushi Walters also thanked her early mentors including Dr. Paikiasothy Saravanamuttu, all of whom have had a significant impact on the decisions she made. (ER)
There is still so much to be done for human rights protection in many countries around the world because human rights belong to all