---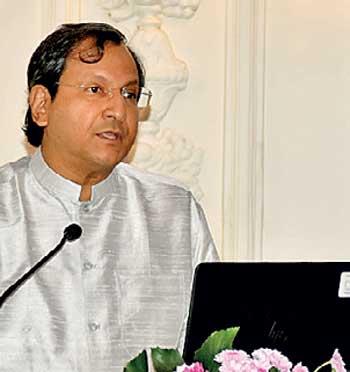 Given Sri Lanka's experience in the recent past in low and high-intensity conflicts with terrorist groups, only a few countries can qualitatively match the troops sent by Sri Lanka, Foreign Secretary Ravinatha Aryasinha said.
He said Sri Lankan troops have extensive professional experience in all aspects of peacekeeping and providing humanitarian assistance, illustrated each passing day, most recently in Mali.

Mr Aryasinha expressed these views while delivering the Opening Statement at the 9th South Asian Regional Conference on International Humanitarian Law (IHL) – "IHL in Action: A Narrative of Prevention and Protection", organised by the ICRC Colombo in collaboration with the Government.

The Secretary noted that the humanitarian vision of protection and prevention has been upheld through the participation of Sri Lankan forces in UN Peacekeeping Operations throughout the world since 1957.
He said the principles of IHL should be understood in the present context of armed conflicts, which are more dynamic, sophisticated and multifaceted, than in the context in which the Geneva Conventions were initially formulated in the 1940s.
"Unlike in the past, battles now fought, are mostly internal armed conflicts, generally more protracted, largely involving non-state actors, have moved from conventional war theatres to urban settings, using new technologies such as LAWS where the acceptable degree of machine versus human control in the context of IHL is in dispute, and where the principles of proportionality in armed conflicts, concept of global war on terror, issues of practical ability of states and armed groups to abide by their legal obligations under IHL, are also highly contested.

The question of parity between State and non-State actors, the applicability of IHL in non-international armed conflicts (NIACs) are further serious impediments in ensuring full compliance of IHL by all parties to a conflict," he said. Sri Lanka has provided valuable case studies to the world over the past four decades in the successes in the operationalisation of International Humanitarian Law (IHL) and humanitarian diplomacy, he further said.

Mr Aryasinha noted that Sri Lanka's 1989 signing of the agreement with the ICRC would probably count as an early manifestation of Sri Lanka's international commitment to IHL.