---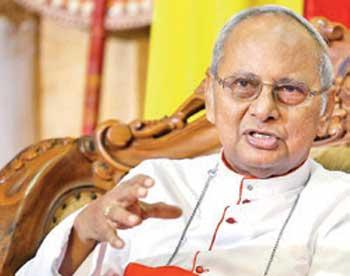 By Diana Udayangani
Malcolm Cardinal Ranjith said on Saturday (11) that it is not only the officers but also the country's leadership should be held responsible for the failure to prevent Easter Sunday's bomb attacks.
He said that all those concerned should be punished after their removal from office. He said God would punish them after His Judgement if they survived the people's judgement. Informing that his life was also under threat, he said he was ready to sacrifice his life which otherwise belonged to God and people.

He said so at the Holy Mass that was celebrated at St. Lucia's Cathedral in Kotahena on Saturday (11) in view of the devotees killed and the injured in the bomb explosion that took place at the Kochchikade Church in Colombo. The affected families were given aid on this occasion.

Archbishop said, "The Easter Sunday attack did not take place at the will of God. It is a result of people's sinful acts. Our brothers and sisters fell prey to the sinful acts. This is also a personal blow against me."

He also said that, this kind of attacks could have been averted by the officers and the leaders of the country.

"They cannot absolve themselves from it. They have to be penalized.

That is by expelling them from their office. Those who are unable to take up responsibilities are unfit to govern our country.

They have to be removed. Some are still at large though. Some behave as if they did nothing. They think they can get away from this," he said.