---
He has been described by the media platform as a racist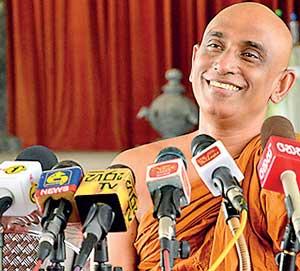 By Ajith Siriwardana
Some members of the 'Ape Jana Bala Pakshaya', led by former MP the Ven. Athuraliye Rathana Thera yesterday complained to the Human Rights Commission (HRC) on the Facebook ban imposed on Bodu Bala Sena (BBS) General Secretary Ven. Galagoda Aththe Gnanasara Thera.
Rathana Thera told the media that Ven. Gnanasara Thera's Facebook account had been blocked on the claim that he was a racist.

"Ven. Gnanasara Thera, is a social activist, who foretold the danger posed by Muslim extremism and openly talked against it. Though he was described as a racist, what he said has been proven right after Zahran's bomb attack," Rathana Thera said. He said it was unreasonable to ban his social media account as it was an effective medium of communication and also because they hardly get any chance on state or private media to convey their message.
Ven. Gnanasara Thera, is a social activist, who foretold the danger posed by Muslim extremism and openly talked against it