---
Says caretaker government cannot run without P'ment for more than three months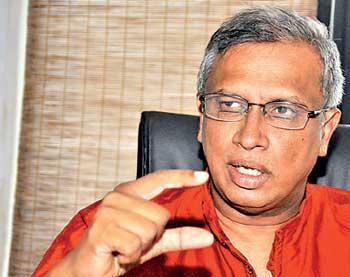 By T. Farook Thajudeen
Before a five-judge bench of the Supreme Court (SC), President's Counsel M.A. Sumanthiran said the process followed in dissolving Parliament and postponing the general election had become null and void. He said it was a violation of the fundamental rights of the petitioners.
He made this assertion during the inquiry into seven fundamental rights petitions challenging the President's decision to dissolve Parliament and postponement of the election by the Elections Commission (EC).

"Our parliamentary system never ceases its functions. However, from time to time, members are elected by voters in a democratic process. The President dissolved Parliament on March 2. Thereafter, the EC called for nominations on public holidays which is illogical because nominations cannot be called on public holidays. The election was fixed for April 25 but later rescheduled for June 20. The caretaker government cannot run without Parliament for more than three months which undermines the sovereignty of people and the law. Hence, the whole process of dissolving Parliament and postponing the election is a violation of fundamental rights guaranteed under Articles 12(1) and 14(1) (A) of the Constitution," he said.

Further submissions postponed for today.

The seven petitions were filed by Attorney Charitha Gunaratne, Dr. Paikiasothy Saravanamuttu of the Centre for Policy Alternatives, veteran journalist Victor Ivan along with seven others, Ranjith Madduma Bandara and former MPs Kumar Welgama and Champika Ranawaka, challenging various aspects of the constitutional quagmire.