---
Rs.2Bn worth Ice, Heroin seized in Chilaw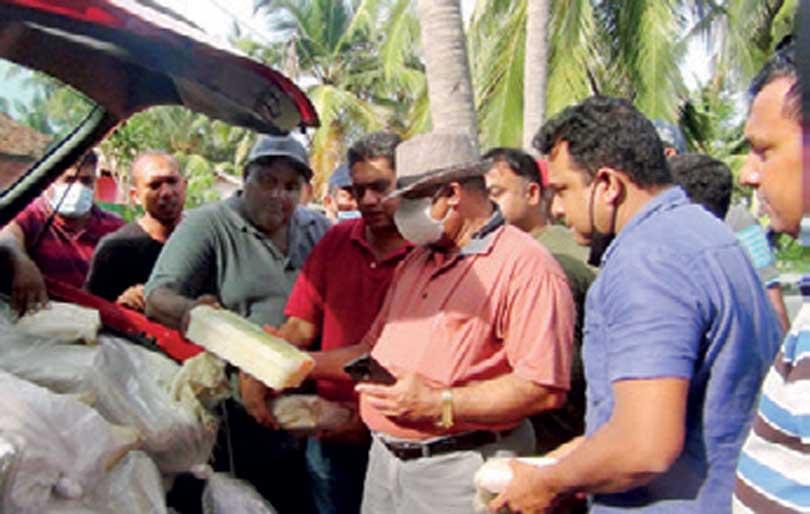 By Kurulu Koojana Kariyakarawana
The Department of Excise made its largest narcotics detection in the history yesterday by seizing two large stocks of Crystal Methamphetamine (Ice) and Heroin worth over Rs.2 billion from a location in Thoduwawa, Chilaw.
Excise Chief Ariyadasa Bodaragama had personally supervised a special team appointed from the department's headquarters in Rajagiriya backed by the officials of its recently established intelligence unit to carry out the raid.
Departmental Spokesman Deputy Excise Commissioner Kapila Kumarasinghe said the special team had seized 100 kilos of Ice (Crystal Meth) and another 100 kilos of Heroin, whilst being transported in four vehicles by four suspects.
The arrested men had been identified as residents of Ganemulla, Dematagoda and Mirigama and were in the ages of 37 – 44 years. Amongst the four vehicles taken into custody were two motorcars, a van and a lorry, the Spokesman said.
The recovered drugs has been valued, as the stock of Ice worth over Rs.900 million and the stock of Heroin worth over Rs.1,200 million adding up to a massive total of over Rs.2,000 million (Rs.2 billion).
According to the department's inside sources, the particular case had been first investigated for over several months by the Excise Narcotics Unit, that dealt with the informants of the major drug operation.
The Excise Narcotics Unit at one point had sought the assistance of the Sri Lanka Navy to carry out further investigations but failed, as the drug operation was suspected to have links with the smugglers operating on the sea routes connecting South Indian coastal locations.

However, a special team had been appointed to probe the case by the Excise Commissioner General Bodaragama, who was recently confirmed in his position as the Excise Chief after having served as the acting ECG for several months.

The department is conducting further investigations to find the network of smugglers behind the case.
Excise Narcotics Unit at one point had sought the assistance of the Sri Lanka Navy to carry out further investigations but failed