---
The Veddha chief alleged that hundreds of acres of forest land were destroyed by foreign companies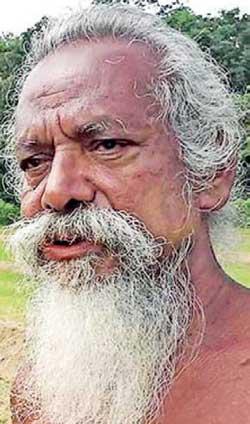 By T. Farook Thajudeen.
Leader of Sri Lanka's indigenousVedda community, Wannila Aththo filed a writ petition in the Court of Appeal against the massive environmental destruction taking place at the Galwalayaya forest reservation adjacent to Pollebedda-Maha Oya in the Ampara District.
The Vedda chief alleged that hundreds of acres of forest land were destructed by foreign companies, using dozers and heavy machinery.
He alleged that many of their generations had lived in the mountain ranges of Pollebedda and Horikana and they had now lost their right to livelihood in their ancestral lands.
He assumed that the ownership of their ancestral lands has been given to companies of foreign countries to grow maize. This destruction needed to be stopped soon. The writ petition was filed in the Court of Appeal through the Environmental Justice Centre, by Senior Counsel Ravindranath Dabare of the Centre.