---
It had been hit by a train and was injured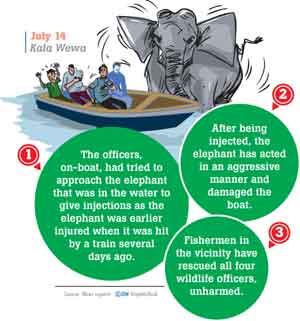 By Kushan Jayawardana
Three officers attached to the Wildlife Department including a veterinary surgeon were rescued after their boat capsized following an elephant attack in Kala Wewa today.
The elephant had been injured when it was hit by a train several days ago and the wildlife officers had tried to approach the elephant who was in the water by boat, to anaesthetize it..

After being injected, the elephant had become aggressive and damaged the boat in which the wildlife officers were. However, fishermen in the vicinity have rescued all the wildlife officers, unharmed.

According to the officers, an earlier attempt by another group of wildlife officers to treat the same elephant had ended up in a similar way.