---
Elderly person taken in on suspicion
drug addicts usually frequented the area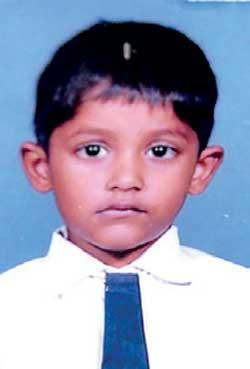 By Kanchana Kumara Ariyadasa
Galewela police found the body of an eight-year-old child strangled to death with a piece of cloth. The body was discovered in a stream in the Pathkolagolla area of Galewela.
The people of the area started searching for the boy after he was found to be missing. The victim, Sanuja Perera, had been staying with some of his relatives.

Police said that drug addicts usually frequented the area in front of the house in which the boy lived. The child's mother had left him behind some time earlier. Afterwards, his father had left him (the child) in the hands of these relatives.

The police arrested a 62-year-old person living nearby who rears goats, on suspicion.