---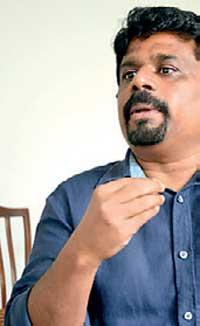 By Ajith Siriwardana
National People's Power (NPP) presidential candidate Anura Kumara Dissanayake said yesterday revolutionary changes were needed to the national education policy in a bid to address the
present crisis.
He said this at the launch of the education policy of NPP election manifesto held recently at Waters Edge in Colombo.

"In the process of national development, education is of paramount importance as an economic strategy. There is a correlation between education, social crimes and living standards. A recent study revealed that 70 percent of drug addicts and 60 percent of those remanded were O/L dropouts. Economic and social crises can be resolved only by improving human resources and commercial assets. For this, we have introduced novel concepts in our election manifesto.

"Education is sold outside school at various prices. Children go to school only as a tradition. They receive education elsewhere. Our aim is to bring in education to schools. We will introduce a system where the total cost of education is borne by the State," he said, adding that a new policy on Grade 1 admission and pre-school had been incorporated in their manifesto.