---
int'l bodies threaten to impose embargoes, withdraw GSP+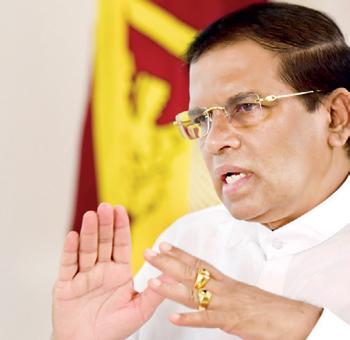 By Sandun A. Jayasekera
President Maithripala Sirisena said yesterday the Easter Sunday terrorist attacks were linked to the global drug trade. He said this while addressing the western province ceremony of the National Drug Prevention Week held yesterday at the Sugathadasa Indoor Stadium.
"There is a close connection between international terrorism and the global drug trade. The involvement of several politicians with drug peddling is not a secret. I'm not sure how many politicians toil to save the country from this threat," he said, adding that several international organisations, the European Union (EU) in particular, had voiced their opposition to Sri Lanka's decision in revoking the moratorium on carrying out death penalty.

"If we went ahead with the decision, they have warned of withdrawing the GSP+ facility and will impose embargoes. This is a threat to Sri Lanka. Assistance of the international community is vital for national development, but I don't think any of these global organisations has a right to threaten us or our sovereignty. A powerful gentleman (Loku Mahattayek) has said his party, as a policy, was against capital punishment. I need to grill what his party or his policies have done in the past four years to control the drug peril. There was none to help me when I single-handedly carried out the war against illegal drugs and narcotics in the past four years," he said.

He questioned as to what those detractors did to save three hundred thousand youths who had become drug victims.

"I will never take a step back and give the leadership to the fight against drugs though it is a threat to my life. I consider it as a duty on behalf of the nation and future generation. The illegal drug trade has the capacity to destroy a nation. I don't want to see Sri Lanka becoming another Mexico. Therefore, I believe that not only politicians, but also officials, schoolchildren and all Sri Lankans in general should fulfil their duties and responsibilities in saving the nation from the drug menace by standing against it as one.

"Those who oppose death penalty for drug traffickers did not do anything to control the menace. From 2015 to 2019, over 24,818 kilos of various drugs were seized. During that timeframe, there were many arrests and rehabilitation services for drug-related offenses. More than fifty thousand people are imprisoned each year for drug offenses and most of them are women. The value of the stock of narcotics circulating in the country each year is over a staggering Rs.50 billion. Against this backdrop, schoolchildren and university students are becoming victims of drug traffickers," he said.

Parallel to the observances on the 'International Day Against Drug Abuse And Illicit Trafficking' on June 26, a week-long drug prevention campaign was launched islandwide targeting schoolchildren, students in universities and vocational training centres and the general public.

The national survey report compiled by the Presidential Task Force on Drug Prevention, National Dangerous Drugs Control Board and Sri Lanka Police was presented to President Sirisena at this ceremony.