---
Presidential Commission had failed to uncover another set of people responsible for the attacks
The Commission has failed to identify as to who nurtured the terrorists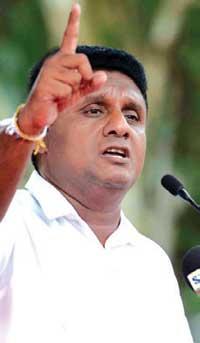 By Yohan Perera
Presidential Commission which probed into Easter Sunday attack has done only a half-baked job since it has revealed only one group of people who are responsible for the terrorist strike, Leader of Opposition Sajith Premadasa said.
Mr. Premadasa who was speaking to journalists after accompanying SJB MP Asok Abeysinghe to the CID office in Colombo, said the Presidential Commission had failed to uncover another set of people responsible for the attacks.

"The Commission has failed to identify as to who nurtured the terrorists and who carried out the Easter Sunday mayhem. Whole nation is waiting to find answers to this question but the Presidential Commission has failed to find that out including those who were affected by the attacks," Mr. Premadasa said.

"I accompanied MP Abeysinghe since it is my duty to protect my MPs as the party Leader," he said. Field Marshal Sarath Fonseka who also accompanied the MP said the authorities were on a witch-hunt for those who spoke of the Easter Sunday attacks rather than tracing the real perpetrators.
I accompanied MP Abeysinghe since it is my duty to protect my MPs as the party Leader