---
I have reports to show that Zahran had contested a local government election
President told me taking such action could cause problems with Muslim politicians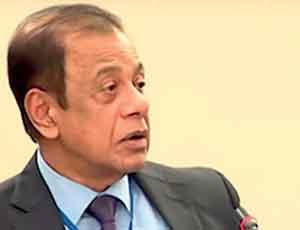 By Yoshitha Perera
Former President Maithripala Sirisena had informed former Defence Secretary Hemasiri Fernando that no immediate action was required against those who joined Islamic State (IS) organisation and Islamic foreign preachers who conducted preachings across the country during that time thinking that it could be a matter for country's reconciliation, it was said at the PCoI probing Easter Sunday attacks on Saturday.
Testifying before the Commission, former Defence Secretary Hemasiri Fernando said that former President Sirisena was in fear of creating issues with Muslim politicians and had instructed him not to take any action against Islamic foreign preachers who arrived in the country. "I had informed former President Sirisena to take necessary action against those who had links with terrorist organisations such as IS, Al Qaeda, and those returned to the country after receiving weapons training from such organisations. But the President told me taking such action could cause problems with Muslim politicians. He instructed me not to take any action immediately," Mr. Fernando said.

He added that arrest of Zahran Hashim also may have not been done due to such political pressures. "There had been many instances regarding Muslim politicians interfering with the arrests of various criminals during the previous 'Yahapalana' Government," he said. While responding to a question raised by the representative from the Attorney General's (AG) department, Fernando added that it was clear that Zahran had provided his support to former President Maithripala Sirisena during elections.

"I have reports to show that Zahran had contested a local government election. It is evident that Zahran had provided support for many political parties," he said.
President told me taking such action could cause problems with Muslim politicians