---
We have to look critically on what happened on the day of the bombing. Otherwise we can never be ready for this type of situation again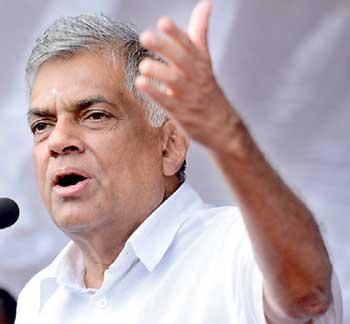 By Yohan Perera
Local forensic experts who carried out investigations on the Easter Sunday attacks should forward their findings to the Parliamentary Select Committee probing attacks, Prime Minister Ranil Wickremesinghe said yesterday.
Speaking during the induction of Prof. Anuruddhi Edirisinghe as the 16th President of the College of Forensic Pathologists of Sri Lanka, the Premier said the Forensic experts should forward their findings to the select committee as it was looking at so many aspects.

"We have to look critically on what happened on the day of the bombing. Otherwise we can never be ready for this type of situation again. Your observations should be forwarded to the Parliamentary Select Committee as they are investigating on so many aspects. Since it is looking at forensic auditing they would look at forensic pathology as well," the Prime Minister said.

"Professor Anuruddhi Edirisinghe deserves to be President of the College of Forensic Pathologists Sri Lanka. I know the amount of work she did during the Easter Sunday bomb attacks. The real effort that was put in Negombo Hospital led by her and the other team in Batticloa deserves commendation," he added. .

"In our minds we keep associating terrorism with what the LTTE did. Certainly the original copyright is with the LTTE. However there have been far more patents that have been developed by other terrorist groups. We have to know how terrorism keeps evolving. It keeps evolving very rapidly. This is why your observations are important. Without a critical survey we cannot say we have really gone into the matter and taken corrective measures. Our police and security services were able to identify the attackers on the first day of the attack. Thereafter forensic medicine made a very important role within the first 48 hours of the attack and within two months we had them under control," he also said..

"During the time I became a lawyer forensic medicine was ancillary to law. There has been a development in the fields of science and technology as such it has become a part of law enforcement. It is no longer ancillary; it has become a subject which we no longer refer to occasionally. Forensic science has become part and parcel of legal system. Advancement of science will affect many areas," he further said.
We have to look critically on what happened on the day of the bombing. Otherwise we can never be ready for this type of situation again. Your observations should be forwarded to the PSC as they are investigating on so many aspects