---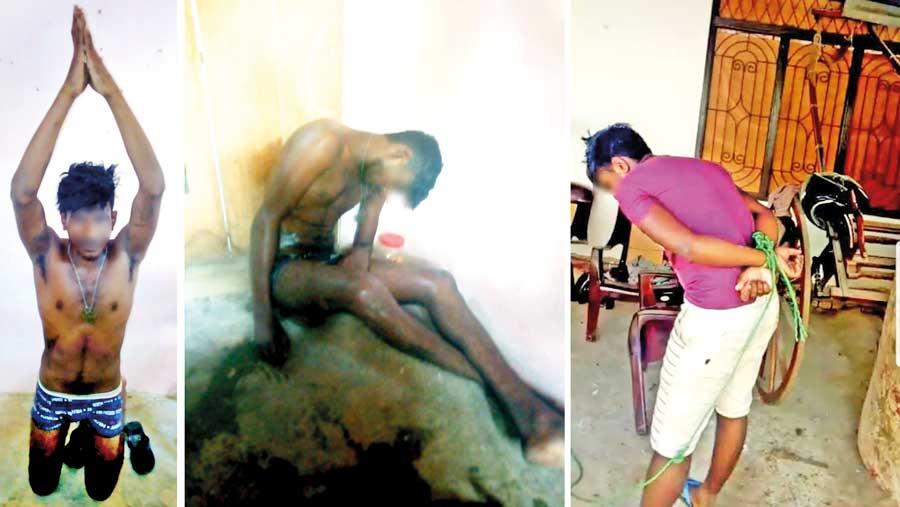 By Srinath Prasanna Jayasuriya
An accomplice of 'Olu Mara' who is alleged to have maintained a torture chamber in a house in Sirigampola, Wennapuwa, identified as 'Ran Chamara', had been taken into custody on suspicion by a team of Wennappuwa Police officers on Wednesday in the Kirimetiyana area.
At the time of the arrest, the suspect had 2g and 200 mg of Heroin in his possession. 'Olu Mara' who had been operating a criminal gang in Wennappuwa was taken into custody previously and been produced before the Marawila Magistrate's courts, is presently under remand custody.

During a check on Olu Mara's Mobile phone, the pictures in that revealed the existence of this torture chamber, and with the arrest of Ran Chamara, it was proved that these suspects had been torturing youth. After observing the images and video clips in the Mobile phone, Ran Chamara was arrested. It was clear from these clips that the abducted youth were detained in the torture chamber and were subject to various acts of torture. Another seven suspects had fled the area and the police had launched a search operation.

The Chilaw Police informed that the suspect who was arrested has been charged for homicide, assaulting individuals and trafficking in Heroin among several charges and court actions pending at the Marawila and Chilaw Magistrates' courts. The suspect was taken into custody by the special raid conducted under the direction of Wennappuwa ASP Eric Perera. Sources revealed that an individual who had criticized the actions of this gang had been abducted by the 'Olu Mara' gang and taken to this torture chamber and after tying his hands and feet and nails were driven into his feet. Fearing any backlash, this victim had not complained to the police and had obtained medical treatment on the sly. Police also revealed that some of the youth who were abducted and brought to the torture chamber had undergone inhuman assault where their feet were cut open and salt and chili powder were rubbed on the open wounds.
The victims had not brought these inhuman acts of these suspects to the police fearing repercussion. Police are to summon these victims as well in due course to record their statements.