---
We should have apprehended those who were working against Sri Lanka in countries such as Syria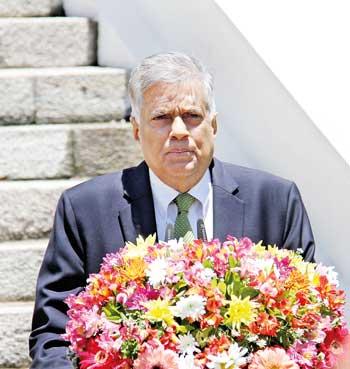 By Yohan Perera and Ajith Siriwardana
While stating that there is no need to create a Bogeyman (Goni Billa) with regard to Counter Terrorism Act (CTA), Prime Minister Ranil Wickremesinghe yesterday said the government may have to bring in new laws to combat extremism and stamp out violence unleashed by a particular religious or ethnic group against another.
Responding to a question raised by JVP Leader Anura Kumara Dissanayake in Parliament , the Prime Minister said new laws are needed to in order to fight global terrorism. "We will have to bring in new laws including new legislation such as the Counter Terrorism Law in order to achieve this," the PM said.

Mr. Wickremesinghe was of the opinion that the proposed Counter Terrorism Law would enable the government to go after terror suspects outside the country as well. He said the proposed law comprises such provisions, "The Counter Terrorism Act (CTA) will contain provisions similar to those listed out in anti-terrorism laws in the UK. He said the UK introduced territorial jurisdiction when terrorism began in North Ireland.

"Sri Lanka introduced the Prevention of Terrorism Act (PTA) in 1979 but it did not have territorial jurisdiction. We would have been able to apprehend those who were working against our interests in countries such as Syria if there was such a provision in the PTA," he said.

Quoting an article that appeared in the Daily Mirror on Tuesday (7) the Prime Minister read the following " I would like to remind everyone that there are ongoing conflicts with competing power structures in Syria. The US, Russia, Turkey, etc., have all intervened. We do not want to get drawn into such a situation. Therefore, the defence lawyers can contend that there is no central power of authority in Syria and this provision does not apply to civil conflict intertwined with terrorism," he pointed out.

However the Prime Minister said section three of the CTA states that intimidating a population is an act of terrorism. He said wrongly or unlawfully compelling the government of Sri Lanka or any government or any international organization to do or abstain from performing any act, preventing a government from functioning or causing harm to the territorial integrity or sovereignty of Sri Lanka or any other sovereign nation is covered in the CTA. Therefore he said all those who have returned from Syria are within the ambit of the CTA.
He appealed to all parties to help enact the CTA. "Support us without trying to create a non-existent monster out of the CTA," he concluded.
"Sri Lanka introduced the Prevention of Terrorism Act (PTA) in 1979 but it did not have territorial jurisdiction. We would have been able to apprehend those who were working against our interests in countries such as Syria if there was such a provision in the PTA"