---
No remedy except for immune-boosting spices like ginger, garlic, coriander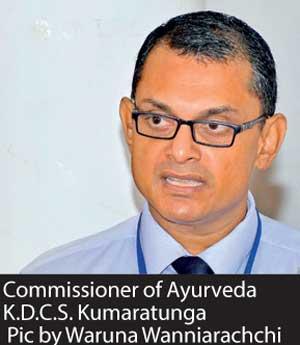 By Kurulu Koojana Kariyakarawana
The Ayurveda Department yesterday cautioned the public not to be deceived by various social media posts about Ayurvedic cures for COVID-19 saying there was no such remedy for the viral infection except for immune-boosting spices or herbs like ginger and coriander.
Commissioner of Ayurveda K.D.C.S. Kumaratunga said it was a punishable offence under the Ayurveda Act No.31 of 1961 for a person who had not registered with the Ayurvedic Medical Council to dispense or promote such cures publicly.

Addressing a special press briefing held yesterday at the Ayurveda Department in Nawinna, Dr. Kumaratunga who is also the Ayurvedic Medical Council Chairman said a growing trend was evident where numerous individuals post Ayurvedic cures for coronavirus through their social media accounts.

"We have noticed a growing trend of people posting Ayurvedic formulas through Facebook or WhatsApp claiming to be easy, efficient and homemade cures for coronavirus. These are misleading messages. Neither western nor Ayurvedic medicine has a cure for coronavirus yet. Therefore, if someone is posting any Ayurvedic recipe claiming it is a solution for the pandemic, it is nothing but an absolute lie," he said.

On the one hand, senior doctor of the National Institute of Traditional Medicine (NITM) S.K. P. Tharanga said bogus recipes containing Perumkayam (Ferula Foetida) or coriander or Nelli (Indian Gooseberry) were freely circulated via social media but nobody would take responsibility if any side effect took place with their usage. On the other, Ayurveda Department Medical Officer Dr. Apsara Nishshanka explained how traditional Ayurvedic methods like Dhoomayanaya (herbal fumigation) with Aama Pachanaya (burning of bodily toxins) and Agni Deepanaya (cleansing pancreatic fluids) could help improve metabolism and boost the immune system. "Leading spices and herbal beverages like ginger and coriander, Aralu (Terminalia Chebula) and Thippili (Long Pepper) or Nelli and Rasakinda (Tinospora Cordifolia) can boost one's immune system greatly that a person could improve his or her health up to a certain extent to safeguard from any spreading virus," Dr. Apsara said.
Neither western nor Ayurvedic medicine has a cure for coronavirus yet. Therefore, if someone is posting any Ayurvedic recipe claiming it is a solution for the pandemic, it is nothing but an absolute lie