---
Mr. Dissanayake should go near a mirror and see as to who was having deals with the government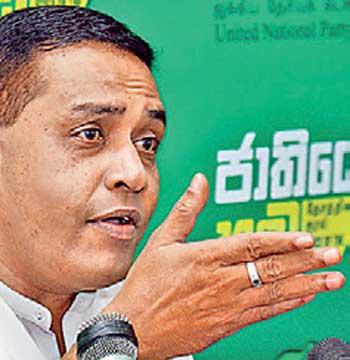 By Yohan Perera
Samagi Jana Balawegaya (SJB) will include UNP in its alliance after the general election but would push those who have deals with the government aside, a former UNP MP and SJB candidate Thushara Indunil Amarasena said yesterday.
Mr. Amarasena came up with this remark at a media briefing where he dealt with UNP National Organiser Navin Dissanayake who questioned about the decision by the government to handover the opposition leader's office to former Opposition Leader Sajith Premadasa on Thursday.

"Mr. Dissanayake should go near a mirror and see as to who was having deals with the government," he said.
He said Mr. Premadasa has already paid the government a sum of Rs.100, 000 for occupying the Opposition Leader's office.

Mr. Amarasena who referred to another remark made by Mr. Dissanayake that UNP should democratise itself said some are considering the grand old party as their own property. Mr. Dissanayake on Wednesday said UNP should amend the constitution and bring in democracy and should contest the general election together with SJB in the event the nominations which have already been called for are cancelled.

"There is no reason as to why the two cannot come together as the differences on the symbol under which the party should contest, is the only reason for the two groups to separate," Mr. Dissanayake had said.
Mr. Dissanayake said UNP should amend the constitution and bring in democracy and should contest the general election together with SJB