---
The Western Province recorded a total number of 1,743 dengue cases
The highest number of 2,686 cases has been reported from the Batticaloa District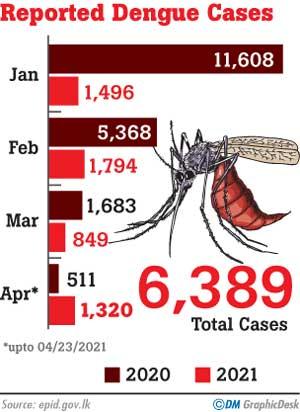 By Sheain Fernandopulle
There is a notable increase in the number of dengue cases reported this year when compared with the cases reported last year, National Dengue Control Unit Director Dr. Aruna Jayasekara said.
He told the Daily Mirror that the cases could rise even more in the coming months with the onset of showery conditions.

"Dengue is on the rise owing to the prevailing incessant showers," he said.

When analysing the dengue data on the Epidemiology Unit website, some 6,389 cases have been reported so far since January this year, while 1,320 cases were reported in the month of April alone.

The highest number of 2,686 cases has been reported from the Batticaloa District while the second-highest of 939 cases have been reported from the Colombo District. The lowest number of cases of three was reported from the Mullaitivu District. The Western Province recorded a total number of 1,743 dengue cases so far, which is the highest among the provinces. The highest incidents of dengue cases of 1,794, has been reported in the month of February.

Dr. Jayasekara asked the public to be vigilant of all types of mosquito breeding sites and should take steps to destroy them on a regular basis.

"At least 30 minutes per week should be spent to clean the mosquito breeding sites," he added.