---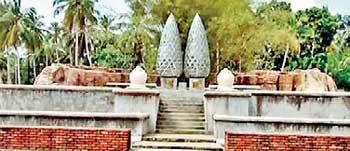 By Yoshitha Perera
The Western Province based Permanent High Court Trial-at-Bar yesterday released President Gotabaya Rajapaksa from all indictments filed against him over alleged misappropriation of Rs. 33.9 million of public funds for the construction of the D.A. Rajapaksa Memorial and Museum.
The Court had released the President in accordance with article 35 (1) on the Constitution which reads that no civil or criminal proceedings shall be instituted or continued against the President in respect of anything done or omitted to be done by the President, either in his official or private capacity. The Permanent High Court Trial-at-Bar lifted the overseas travel ban imposed on President Rajapaksa and ordered the Court Registrar to release his passport which was currently impounded by the Court. The Permanent High Court Trial-at-Bar also ordered for all the bondsmen who had placed bonds on behalf of Gotabaya Rajapaksa to be released from their bonds and also ordered for the cash bonds placed with the court to be released.
The Permanent High Court Trial-at-Bar bench, ordered the prosecution to inform the Court on or before January 09 about the measures which would be taken against the remaining 06 defendants of the case.