---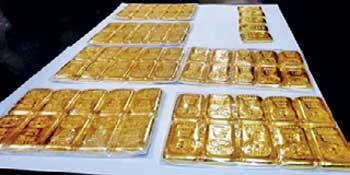 By Kurulu Koojana Kariyakarawana and T. K. G. Kapila
A porter who tried to smuggle out a stock of gold biscuits worth over Rs.58 million from the Arrival Terminal of the Bandaranaike International Airport (BIA) was nabbed by the Customs last morning.
Customs Narcotics Division officials following a lengthy probe took the suspect into custody when he had tried to vacate the Arrival Terminal from the designated Staff Gate that is used by the airport porters as well.
Customs Spokesman Additional Director General Sunil Jayaratne told the Daily Mirror the sleuths found 65 gold biscuits, each weighing 100 grams neatly packed around his torso with the aid of a girdle under his uniform.

The suspect had told the officials that he had exchanged the parcel of gold from an inbound passenger inside a toilet situated under the escalator linking the duty free shopping area and the Customs offices.

Customs detectives suspect that the porter had carried out the similar acts on several previous occasions too in the same modus operandi. The porter had been recognised as one of the most efficient and friendly staff of the airport that had build a rapport with all the staff in day-to-day duties.

The sleuths believe that he had used his public relation skills to commit the crimes frequently under the nose of the BIA security officials.
Assistant Superintendents of Customs Hirun Gunasiri, Dilshan Weligampitiya, Danushka Alahakoon and Anuppriya Gunawardena made the arrest.
Investigations are carried out under the directions of Deputy Directors of Customs A. R. Senadeera, D. A. S. Chandrasiri, and Superintendents of Customs W. K. A. D. B. C. Sunith, E. Sivagnanam, Kasun Suriyaarachchi, P. K. Arachchi and A. H. R. Samantha.