---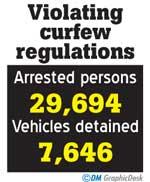 By Sandun A Jayasekera
The Presidential Media Division (PMD) announced, the curfew in Colombo, Gampaha, Kalutara, Puttalam, Jaffna and the Kandy districts would continue until further notice.
.
In the other 19 districts, the curfew will continue until 6.00 am Monday (20) the PMD announced.
He said a strategy had been formulated to revive the economy and to ensure a return of normalcy to civilian life which was plunged into disarray by the outbreak of the the Covid-19 pandemic. The plan is expected to be announced during the weekend,
Meanwhile, Deputy Inspector General Ajith Rohana said, within the 6-hour period between 12.00 am and 6.00 pm yesterday, police had arrested 331 persons who had violated curfew orders. He added police had also taken into custody 72 vehicles.
Since the curfew was first imposed on 20th of March uptil 6.00 am yesterday (17 April) police had arrested 29, 694 persons who had violated the curfew regulations and 7, 646 vehicles detained.
DIG Rohana said government had also put in place a mechanism to continuously supply essential food items and other goods enabling the public to purchase them at home, during curfew hours.
He said those engaged in paddy farming, fisheries, cultivation of small tea holdings and export crops in any district were permitted to carry out their activities.
He stressed however traveling between districts was been completely prohibited except for the purpose of providing essential services.