---
While his family was in quarantine centre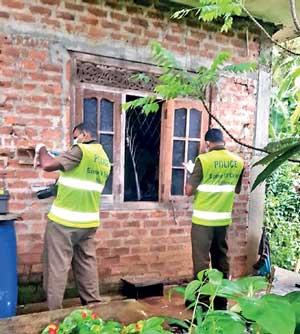 By Chamil Rupasingha
The house of a Covid-19 infected Army Officer Adviser at Thalawathura in Daulagala who was attached to the Kandakadu Rehabilitation Centre had been burgled while his family members were at a quarantine centre.
The officer had returned home at Thalawathura on June 19 from the Kandakadu Rehabilitation Centre and was confirmed that he had been infected with Covid-19 on July 11. His wife, two children and mother were sent for quarantine by the health authorities despite they had not been infected with the virus. As his house was closed, the officer had informed his wife's brother to feed the fish in the house. The brother had noticed that the officer's house was burgled and lodged a complaint with the Daulagala Police. The burglars had stolen a TV, an amplifier and a DVD player among other things.

The officer is also have reported to having requested the Police to provide security to the house when leaving the house for quarantine.