---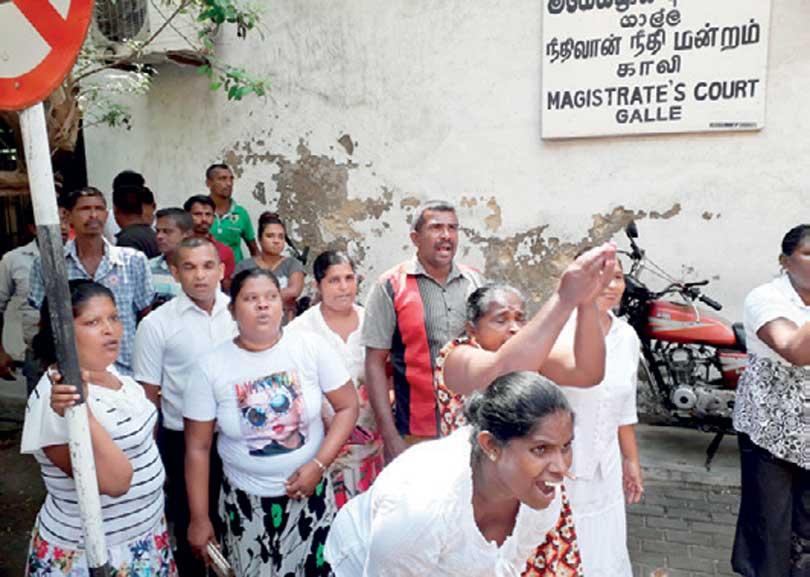 By Darshana Sanjeewa and D.G.Sugathapala
The Galle Chief Magistrate yesterday issued overseas travel ban on five police constables who are evading the CID over abduction and murder of two businessman in Rathgama.
Police Spokesman SP Ruwan Gunasekera said two police officers attached to the Southern Province Special Investigation Unit, Inspector Kapila Nishantha and Sub Inspector Viraj Madushanka who were in custody over the incident, have been further remanded till March 13, 2019.

The case was taken before Galle Chief Magistrate Harshana Kakunawela yesterday. The magistrate order to produce the Sub Inspector to an identification parade following a request by the CID.

After the identification parade, the CID produced seven case productions recovered from the house in Akmeemana in which the businessmen were reported to have been killed. The magistrate ordered the CID to produced those case productions to the Government Analyst.

The CID informed the court that the businessmen were murdered and their bodies alleged to have burnt at a forest in Walasmulla. The bone fragments recovered from the forest had been sent to the Matara JMO, the CID informed the court.

The IP was jailed at the Boossa Prison, while the SI had been remanded at the Kalutara Prison.

The two businessmen, 33-year-old Manjula Asela Kumara and 31-year-old Rasin Chinthaka were abducted on January 23 by some unidentified men who were clad in what appeared to be police uniform.

Following the incident, 15 police personnel attached to the Southern Province Special Crime Investigation Unit who were on duty at the time of the abduction had been transferred. But five of them are yet to report for duty.

Southern Province Senior DIG Ravi Wijegunawardena was also temporarily transferred to Police HQ in the wake of the abduction and murder.