---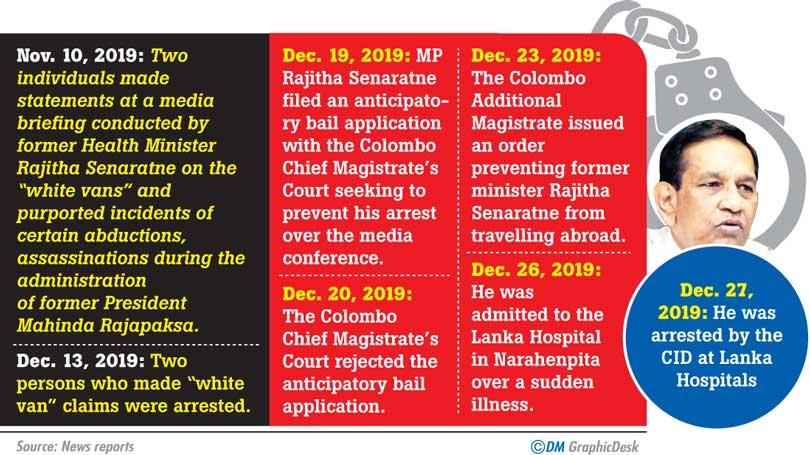 According to his medical reports he was suffering from high blood pressure and mental stress
By Yoshitha Perera
Colombo Chief Magistrate Lanka Jayaratna yesterday rejected a request, made by Wasantha Nawaratne Bandara PC appearing for MP Rajitha Senaratne, to withdraw the arrest warrant issued on him.
The magistrate said there was no legal basis to recall the arrest warrant issued on MP Senaratne.
The counsel also asked whether his client had been named a suspect in the 'white van' case.
Deputy Solicitor General Dileepa Peiris in his response said on December 24 the Attorney General had named MP Senaratne as the third suspect in the case and informed Magistrate Jayaratne on December 24 when the Additional Magistrate had issued an warrant for his arrest.
DSG Peiris said on the advice of Dr. Senaratne's doctor, Uma Shankar, the MP was in an unstable health condition and the CID could not execute the warrant.
"The MP was admitted to the cardiology unit of the Lanka Hospital and according to his medical reports he was suffering from high blood pressure and mental stress," DSG said adding that the CID had recorded a statement from the MP's doctor and requested the Magistrate to direct the Judicial Medical Officer (JMO) to examine the former minister.
However, the Magistrate said Court could not issue such an order without arresting the person involved.
"The suspect has been charged under Sections 169, 190, 113, 102 of the Penal Code and Section 81 of the Presidential Election Act. These charges are different to those against the first two suspects in the case," Magistrate said.

Counsel Bandara PC asked if the charges were filed as a separate case, who would be the prosecutor. "The complaint should filed by the candidates of the presidential election, President Gotabaya Rajapaksa or MP Sajith Premadasa against MP Senaratne if the CID is going to take it up as a separate case," he said.
The counsel said the prosecution was attempting to mislead the court and CID had already arrested his client.

"Detectives are surrounding the MP' s bed and not allowing us to go there, meaning that the CID had arrested the MP," he said.
The DSG said the AG's department and the CID had followed the correct legal procedure.

The B report said the CID had recorded a statement from the MP's private security officer, Saliya Prasith Mallikarachchi where it had been mentioned that the two men who were at the news conference were introduced by UNP Daraniyagala organiser Ranjith Polgampola.

CID had recorded a statement from Mr. Polgampola who said that during the presidential election campaign another deputy organiser attached to UNP had introduced them to the MP.
The counsel also asked whether his client had been named a suspect in the 'white van' case