---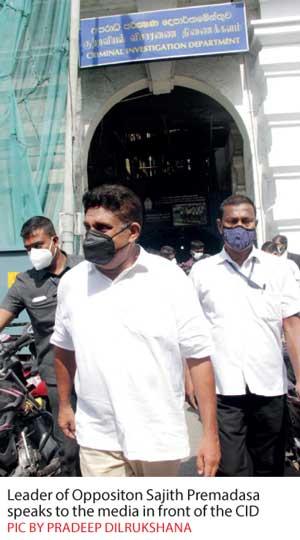 By Yohan Perera
Opposition Leader Sajith Premadasa said yesterday Sri Lanka should take a leaf from the book of the United States in the conduct of investigations into the serial bombings on Easter Sunday in 2019.
"The report of the Commission which probed the 9 -11 attacks in the United States enabled the government there to apprehend Osama Bin Laden who master- minded the terror strike. The Commission was able to trace that Bin Laden planned the 9/11 attacks for years. Sri Lanka also should follow similar tactics to determine the master mind behind the Easter Sunday attacks," Mr. Premadasa told media after accompanying his party's MP Nalin Bandara Jayamaha to the Criminal Investigation Department(CID).
Mr. Bandara appeared before the CID to give a statement.

"The Commission which probed the 9/11 attacks was appointed by George Bush who was a republican President. The recommendations of the Commission was implemented by Democratic President Barack Obama. The U.S. ended up by apprehending Osama Bin Laden. Sri Lanka should also do the same," he said.

Also he said that Singaporean style laws should be introduced in Sri Lanka to eradicate terrorism and drug dealers.
Recommendations of the Commission was implemented by Democratic President Barack Obama
The Commission which probed the 9/11 attacks was appointed by George Bush who was a republican President