---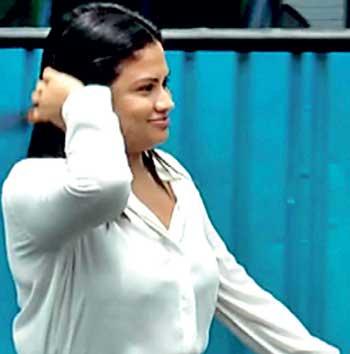 By Darshana Sanjeewa Balasuriya
Former Western Provincial Councillor Malsha Kumaratunga, the daughter of ex-minister Jeewan Kumaratunga, yesterday handed over her mobile phone to the Colombo Crimes Division (CCD) with regard to an ongoing investigation.
Following an order issued by the Colombo Chief Magistrate, Malsha Kumaratunga arrived at the CCD yesterday to hand over her phone, police said.

Earlier this month, former UNP MP Kavinda Jayawardene lodged a complaint with the CCD in connection with a video being circulated on social media.

According to initial investigations into the complaint, it was revealed that the footage had allegedly been shared via Malsha's phone. However, when CCD officers asked her to hand over the mobile phone to the police, she had refused claiming that the video concerned had been deleted, which prompted the CCD to obtain a court order for the matter.

Investigations also revealed that Malsha had sent the video clip to a friend. The CCD is probing as to how she received the video.