---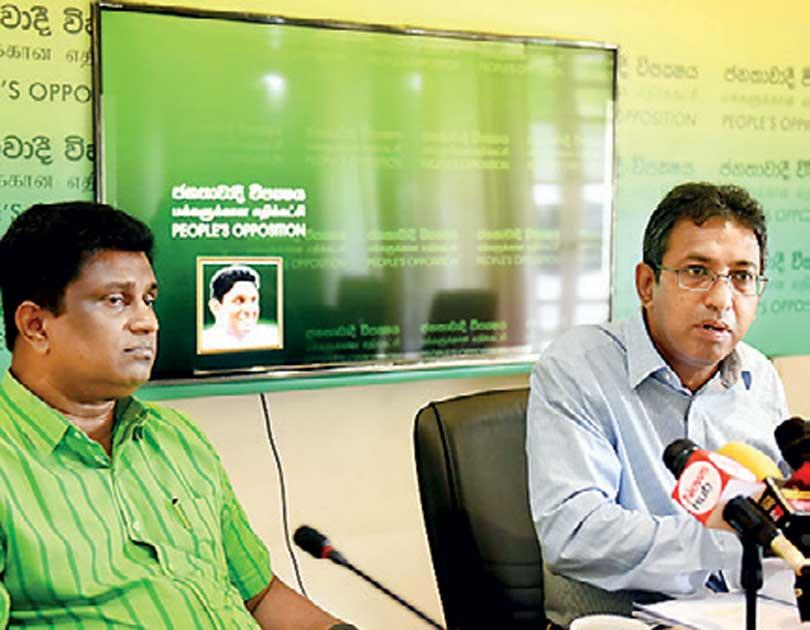 By Yohan Perera
Samagi Jana Balawegaya (SJB) yesterday questioned as to why the previous drafts of the Colombo Port City Economic Commission Bill including the one, which was proposed by the incumbent Prime Minister Mahinda Rajapaksa in 2020 has been shed and a new draconian piece of legislation is proposed instead.
SJB Colombo District MP who chaired the steering committee, which was appointed by the previous government to draft a legal framework to administer the Port City questioned during a press conference as to why the previous drafts including the one which was earlier proposed by the present government has been shed.

"The draft which was proposed by Prime Minister Rajapaksa in 2020 and the one which was prepared by us during the previous government proposed a commission which will comprise ten members and seven of them be ex. officio members.

The Ex. officio members include the Secretary to Ministry of Finance, Chairman of Urban Development Authority (UDA), Central Environment Authority (CEA) Chairman, Board Of Investments (BOI) Chairman, Security and Exchange Commission Chairman, Central Bank Governor and the Secretary of the Ministry which the Port City would come under.

However, the new draft which has already been presented to Parliament had given the power of appointing members of the commission to the President. Accordingly, the President has the power to even appoint foreigners to the commission," Dr. de Silva said.

The regulatory power is totally vested with the commission according to the new draft whereas the previous drafts proposed a special regulatory body for which the Central Government had a control. As per the new Draft the regulations pertaining to the commission can be gazetted by the commission and sent to the legislature, but approval of Parliament is not needed.

Also, the branches of commercial banks including the overseas banks will not be governed by the Banking Act," he added.

SJB CEO Ajith P. Perera said the proposed Bill is inconsistent with Section 3, 4 and 12(1) of the constitution. "This legislation goes beyond the 13th Amendment as Parliament has no control over the commission unlike in the case of provincial councils," he said.
The regulatory power is totally vested with the commission according to the new draft whereas the previous drafts proposed a special regulatory body for which the Central Government had a control