---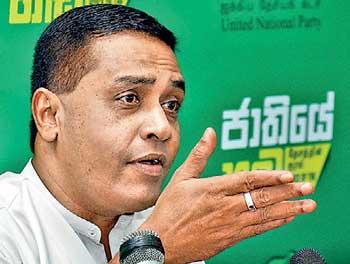 By Chaturanga Samarawickrama
The United National Party (UNP) felt sorry for MP Ranjan Ramanayake and does not accept what he had done, but he may have collected those telephone recordings as a hobby as his personal interest, UNP MP Thushara Indunil Amarasena said.
Speaking at a media briefing at the Opposition Leader's office in Colombo yesterday, he said while keeping voice recordings, MP Ramanayake had inconvenienced many State employees. He said various people have various hobbies such as collecting antique cars, used toothbrushes, pens, stamps etc.

However, the UNP had decided not to make any statements regarding the telephone recordings of MP Ranjan Ramanayake, Indunil said.

"This is not the opinion of the party or not an act done by the party. MP Wimal Weerawansa had a habit of changing his identity cards to prove that he is older than his wife. Mahinda Rajapaksa and Gotabaya Rajapaksa had gray hair but they did not change their NICs to portray they are young," he said.

Therefore, it is not relevant to label the individual act done by MP Ramanayake to the entire UNP, he said. He said Mr. Ramanayake had made several statements that damaged even the UNP.
"We feel sorry for him and we do not accept what he had done by keeping those voice recordings and causing inconvenience to many state employees," MP Indunil Amarasena added.
Can't label Ranjan's individual act to the entire UNP