---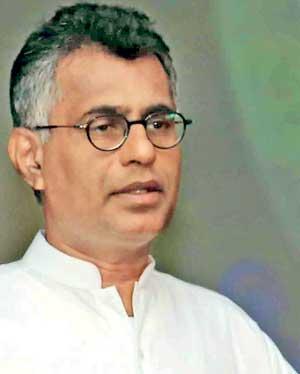 BY Sandun A Jayasekera
Megapolis and Western Development Minister Patali Champika Ranawaka while refusing to comment on the controversial tenders granted to two companies, a Chinese and a local company, to build two 300 MW LNG power plants at Kerawalapitiya, told the media that he had appraised the President, Prime Minister and the cabinet colleagues on the basis on which he chose these two companies.

He told the media at his office that corrupt politicians, corrupt officials and corrupt businessmen will continue to exploit power and energy sector for their financial gains. "Why does this happen? It is because the ill lucre amassed by unscrupulous politicians and businessmen is huge and they are addicted to it. There must be a strong political will to put an end to this evil practice but it is not an easy task," he stressed.

Minister Ranawaka pointed out that during the short period he had served as the Minister of Power and Energy in the 100-day government in 2015 he was able to dismantle the power mafia and earned the Ceylon Electricity Board (CEB) a profit of Rs. 20 billion for the first time in its history.

The minister said that at that time he took measures to terminate fifteen contracts that had been signed by the CEB to purchase power from Private Power Providers (PPP) at a huge cost which was the main reason for the haemorrhagic effect where billions of rupees due to the CEB was lost.

"I have been subjected to many allegations, mudslinging and character assassinations for my straight-forward actions. Even today I am getting brickbats and insults not only from the joint opposition but from the government side as well. But all these detractors must learn that I will never stop my work for the people and give up midway without reaching my final target," Minister Ranawaka emphasized.

Minister Ranawaka said he did not come from a so called elite family but from a rural one that identifies with the cultural social and religious fabric of the country. Therefore, he said it will be impossible for anyone to destroy his image and halt his political journey until it reaches its targeted destination.
During the short period he had served as the Minister of Power and Energy in the 100-day government in 2015 he was able to dismantle the power mafia