---
The Minister has informed the prison authorities to do something for this as his work has been disrupted due to this situation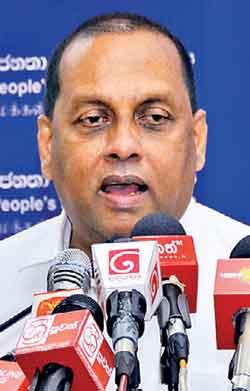 By Sandun A. Jayasekera
Power, Energy and Transport Minister Mahinda Amaraweera has become an unexpected victim of the cell phone jamming exercise put in place by the authorities of the Angunakolapelassa prison, the Daily Mirror learns.
Phone jamming devises have been installed at some prisons in the country including the Angunakolapelassa prison, to put an end to illegal operations of the planning of crimes and drug peddling from within the prisons.
As a result phone jamming devises have been installed to block such operations handled by inmates using mobile phones smuggled into the cells.

Minister Amaraweera has constructed his new residence in Angunakolapelassa, about a kilometre away from the prison

A close associate of Minister Amaraweera told Daily Mirror that Minister Amaraweera is not in a position to respond to a call from the President or Prime Minister when he is at his country residence or to give a call to both leaders even for an emergency. "When his cell phone rings, he runs to a paddy field nearby where there is a slight connection of communication. But the proper use of the phone is impossible. The Minister has informed the prison authorities to do something for this as his work has been disrupted due to this situation. As this is happening at the time of an election, the damage is more serious," he said.
Phone jamming devises have been installed to block such operations handled by inmates using mobile phones smuggled into the cells