---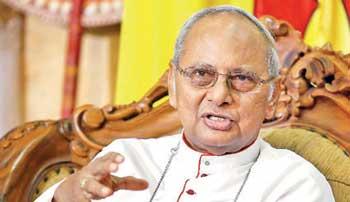 By Yohan Perera
The Colombo Catholic Archdiocese has decided to reopen private Catholic schools on Tuesday May 14 while masses would begin next Sunday depending on the country's situation, Colombo's Archbishop His Eminence Malcolm Cardinal Ranjith said yesterday.
Cardinal Ranjith told a media conference yesterday that Catholic private schools might be opened on May 14 . However he said these schools would be closed until after Vesak Holiday if there were any fresh threats.

"We cannot allow even a single child to suffer. Therefore we intend to look into the situation carefully," Cardinal Ranjith said.

Responding to a question raised by journalists as to whether churches out of Colombo were facing any threat, Bishop of Kandy Viyani Fernando said local priests have been asked to contact the armed forces and the police to get an idea on the security situation. : We cannot allow the Catholic people to suffer any more," the Bishop said.