---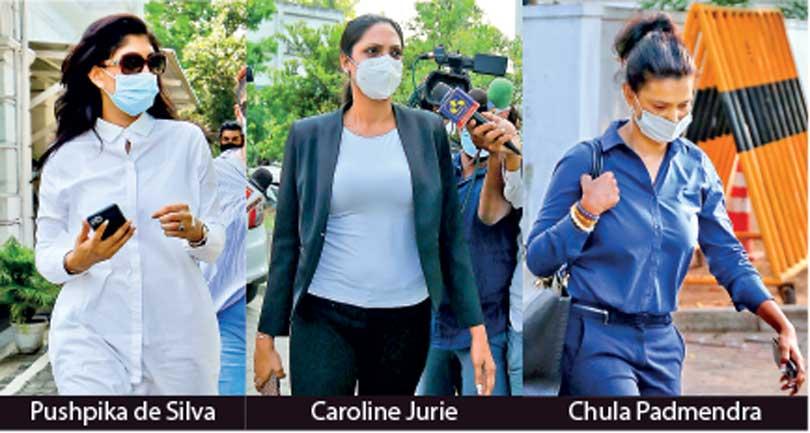 Pushpika de Silva, Caroline Jurie and Chula Padmendra are seen leaving the Cinnamon Gardens Police station yesterday.
Pics by Damith Wickramasinghe
By Darshana Sanjeewa Balasuriya
Reigning Mrs. World Caroline Jurie and former model Chula Padmendra were arrested by the Cinnamon Gardens Police yesterday over the incident which took place at the
Mrs. Sri Lanka pageant on Sunday.
They were later released on police bail.

A brawl erupted at the Mrs. Sri Lanka pageant after Caroline Jurie had removed the crown off Pushpika De Silva who was announced as the winner of the pageant, over allegations that she was a divorcee.

Police Spokesman DIG Ajith Rohana said that the Cinnamon Gardens Police launched an investigation after Pushpika De Silva lodged a complaint against Caroline Jurie and Chula Padmendra, who supported Jurie's actions on stage, stating they intended to harm her by turning violent.

Police recorded statements from Caroline Jurie on Monday over the complaint.

National Director of Mrs. Sri Lanka for Mrs. World pageant- Chandimal Jayasingha also gave a statement with the police claiming that Caroline Jurie was responsible for damages caused to the Nelum Pokuna dressing rooms.

He asked Jurie to pay damages and compensation for the damages.

DIG Rohana said Caroline Jurie and Chula Padmendra were arrested after they appeared at the Police Station to record statements yesterday. Pushpika De Silva also arrived at the police yesterday.

The Daily Mirror learns that Jurie had refused to apologize to Pushpika in public while Pushpika had refused to settle the matter without an apology.

Chandimal Jayasingha told the media that Jurie agreed to convey her apology via video and in a letter. However, Pushpika refused to accept such an apology stating that it was a public embarrassment for her.

Chandimal said he was worried over this incident as this could have been easily settled amicably without dragging it to this extent.
He said the matter would be taken at court on April 19.
Cinnamon Gardens Police launched an investigation after Pushpika De Silva lodged a complaint against Caroline Jurie and Chula Padmendra, who supported Jurie's actions on stage