---
Demands probe committee headed by Buddhist clergy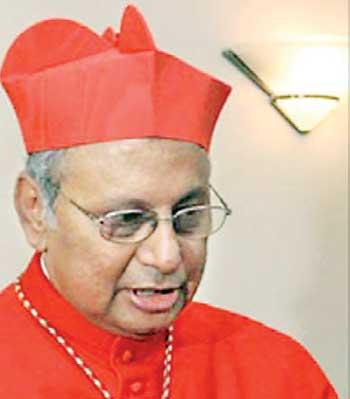 By Yohan Perera
Amending the Prevention of Terrorism Act (PTA) is better than bringing in a new piece of legislation to counter terrorism, Archbishop of Colombo Cardinal Malcolm Ranjith said yesterday.
Cardinal Ranjith said this in response to a statement made by Prime Minister Ranil Wickremesinghe that the Easter Sunday bombings could have been averted had the Counter-Terrorism Act been in force.

"It is easier to amend the existing legislation rather than bringing in a new one. Effective measures should be taken to apprehend the individuals and groups responsible for these attacks in order to prevent people from taking the law into their hands. A new government comprising all parties should be appointed. No party should think of elections at this moment. We will even have to take to the streets and lead peaceful protests if the government continues to handle the situation in the manner it presently does. Action should be taken against ministers and MPs if they were found guilty of being part of the Easter Sunday bombings. The attackers targeted more churches than those which were attacked. The Batticaloa Cathedral and St. Mary's Church in Dehiwala were among their targets. The bomber who loitered near St. Mary's Church had aborted the mission witnessing the police vehicles that had arrived at the location to investigate a robbery that had taken place two days before," he said.

Expressing their dissatisfaction on the investigations carried out by the government into the Easter Sunday terror attacks and the presidential commission appointed to probe security lapses, Cardinal Ranjith, together with Venerable Ittapane Dhammalankara Maha Nayake Thera who was present at the same press conference, said they would welcome the appointment of a committee headed by the Buddhist clergy to look into the matter.

Ven. Dhammalankara Thera said the steps taken by the government to investigate and apprehend those behind the Easter Sunday bombings were far from satisfactory.

"We don't see that the government had given utmost importance to pull the country through from the crisis it had got into after the attacks," the Ven. Thera said while underscoring that the government should speak in one voice at this moment of grief.

Meanwhile, Cardinal Ranjith said he wasn't consulted prior to the appointment of a presidential commission to probe security lapses that led to the Easter carnage.

"We are oblivious to the backgrounds of the members in the commission. We urge the government to appoint another commission comprising religious leaders. Buddhist clergy is eligible to lead such a commission as they will look into the matter impartially," he said.
Says he wasn't consulted prior to the appointment of a presidential commission to probe security lapses that led to the Easter carnage