---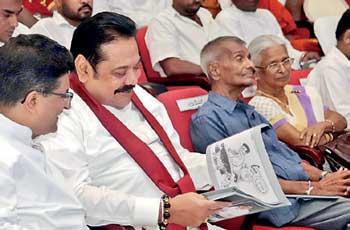 By Lahiru Pothmulla
Prime Minister Mahinda Rajapaksa said they could easily defeat the main opposition if they stuck together instead of contesting the general election separately.
"The Opposition is scattered today. I think it is in our favour if they stick together instead of contesting separately. That way, we can defeat them as a whole," he said.

Speaking at the book launch of 'Ape Satana Cartoon Esin' compiled by former MP Udaya Gammanpila on Thursday, Mr. Rajapaksa said they were confident of securing a clear victory at the general election.

He said he was delighted to grace the occasion of the launch of a collection of cartoons published in the newspapers about Udaya Gammanpila in book form and present it to the editors and cartoonists.

"I'm more delighted that I'm also in most of these cartoons. Mr. Gammanpila remained with us till dawn on the day we lost the presidential election in 2015. He was the first one to be taken to the FCID over allegations that we planned a military coup that night. G.L. Peiris was the second person to be taken to the FCID. Today, it has been proved that all these allegations are false,"

Mr. Rajapaksa said.
The Opposition is scattered today. I think it is in our favour if they stick together instead of contesting separately. That way, we can defeat them as a whole