---
It was based on what he said at a news conference on the virus infection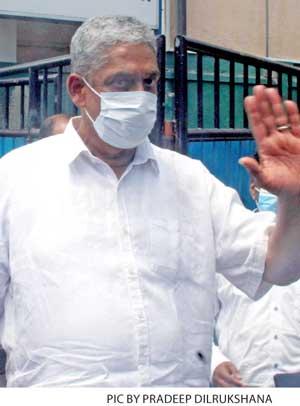 By Darshana Sanjeewa Balasuriya
Field Marshal Sarath Fonseka yesterday gave an hour-long statement to the Colombo Crime Division (CCD) in connection with the remarks he made on the COVID19 pandemic in the country.
The remarks are said to have resulted in creating a fear psychosis among the people.
The CCD had launched an investigations into these COVID19-related remarks made to the media in March by former MPs Rajitha Senaratne and Sarath Fonseka.

Mr. Fonseka is reported to have said at a media briefing that three coronavirus-infected patients had died in March though however, he had later said his comments were a mistake.

On Thursday, the CCD recorded a statement from Mr. Senaratne, who is ramanded at the Pallansena Prison in Negombo.
The CCD had launched an investigations into these COVID19-related remarks made to the media in March by former MPs Rajitha Senaratne and Sarath Fonseka