---
COVID-19 recoveries surpass 50,000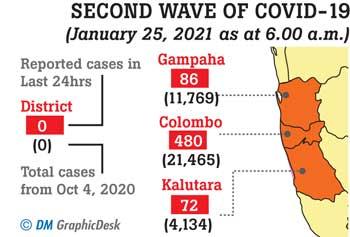 By Darshana Sanjeewa Balasuriya
Despite the authorities claiming that all measures have been taken to control the spread of COVID-19, the highest number of COVID-19 cases within a 24-hour period in a district was reported in the Colombo District on Sunday.
In the country, there were 843 cases on Sunday, and of them 480 were from the Colombo District. Army Commander General Shavendra Silva said yesterday that the daily caseload had increased during the past few days because the health authorities increased the PCR and Rapid Antigen tests. He said that around 18,000 PCR tests were conducted a day in addition to the antigen tests. Only about 8,500 patients are receiving treatment. About 50,000 patients have recovered and been discharged from treatment facilities. Among the cases in Colombo on Sunday were, 242 cases were reported from within the Colombo Municipal area, and 29 each from Mt. Lavinia and Wellampitiya areas. In addition, 86 cases were reported from the Gampaha District, 72 from Kalutara, 40 from Galle and 35 from the Kandy District. Moreover, people with COVID-19 infection have been found in every other district. Meanwhile, as of yesterday morning (25), 7,812 persons in 94 tri service-managed QCs are still in quarantine. Meanwhile, commenting on the COVID-19 vaccination, Army Commander Shavendra Silva said that all the measures have been finalised in respect of COVID-19 vaccination.
He said the Task Force appointed on vaccination of COVID-19 had prepared a list of those who need to be vaccinated first. Accordingly, vaccines will be given to front line workers who are engaged in efforts to prevent the spread of COVID-19. The Commander said after the vaccines arrived at the Katunayake airport from India, it would be transported by the army to be stored in Colombo. "Thereafter, the task force under Lalith Weeratunga will carry out all the procedures regarding the method of transporting the vaccine to other vaccination centres and storing it for vaccinations," General Silva said.
Task Force appointed on vaccination of COVID-19 has prepared a list of those who need to be vaccinated first