---
Ranjan's phone clip controversy
Questions have been raised regarding the confidence in the judiciary
Not only Ranjan but others of the previous Govt. also involved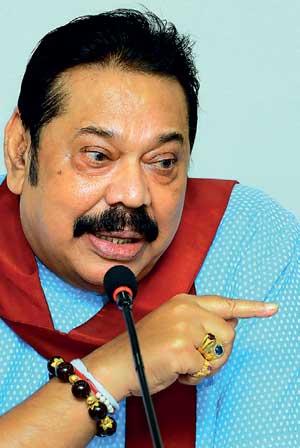 Prime Minister Mahinda Rajapaksa yesterday said that the Chief Justice should initiate action regarding the serious breach of confidence in the judiciary following the revelations made in the phone recordings by former state Minister Ranjan Ramanayake who openly discusses impending judgments and ongoing investigation with judges and police investigating officers.
"I believe the Chief Justice should initiate action in this regard," the Prime Minister said speaking to Newspaper Editors at Temple Trees yesterday morning.

The Prime Minister said that it has not been even two months since they took over the government after the victory of Gotabaya Rajapaksa at the Presidential elections last year, and now many revelations have been made with regard to the activities of the previous government in the phone recordings of MP Ranjan Ramanayake.

"In this the judiciary, the AG's department the previous government's political establishment and all are implicated. It's an attack on the judiciary. This could damage the confidence that the public have in the judiciary. People can raise questions about judgments," he said.

When asked as to what action the government intends taking about it, the Prime Minister said that a commission should be appointed to look into it. He said that the issue cannot be confined to Ranjan Ramanayake only as the political establishment of the previous government was entangled in it.

He said those in the opposition were victimized during the previous government on charges like giving permission to use a vehicle.

He said Wimal Weerawansa was remanded for months for it and when compared to the large scale corruption that had taken place in the Central Cultural Fund and the Mahapola Fund during the last government. Asked whether he had also spoken with Ramanayake on the phone, Prime Minister Rajapaksa laughed and quipped: "Luckily I did not call him. Only maybe to wish on his birthday."

The Prime Minister said that the image of the Parliament too has to be restored as spoken by the President in his address. "I have been in parliament since the 70's. I can remember the Parliament at that time and it has gradually eroded over the years. We have to restore the respect in Parliament as a place where serious discussion takes place and not as a place where mud-slinging happens," he said.
In this the judiciary, the AG's department the previous government's political establishment and all are implicated