---
Police suspect that the monk was murdered as his legs were tied with a piece of wire along with a piece of concrete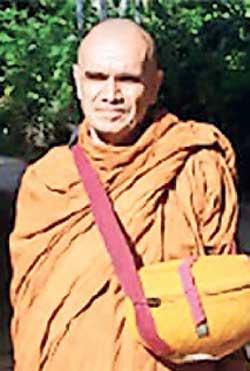 Prime Minister Mahinda Rajapaksa yesterday directed IGP C. D. Wickramaratne to conduct an immediate and comprehensive investigation into the death of a Dutch monk whose body was found in the lagoon at Rathgama.
The body of the Buddhist monk, (59) who was engaged in meditation at the Polgasduwa hermitage in Rathgama was reported missing for several days and his body was found floating in the lagoon on Wednesday. Police suspect that the monk was murdered as his legs were tied with a piece of wire along with a piece of concrete at the time the corpse was found.

The Prime Minister instructed the IGP to assign a special CID team to conduct an investigation to arrest the suspects.

According to the Prime Minister's media division, IGP Wickramaratne has deployed several police teams including a CID team to investigate into the death of the Dutch monk. The IGP is to brief the Prime Minister on the progress of the investigation.

According to the police, statements have been recorded from several foreign monks who are meditating at the hermitage and from residents in the area.